I'm done I'm done I'm done!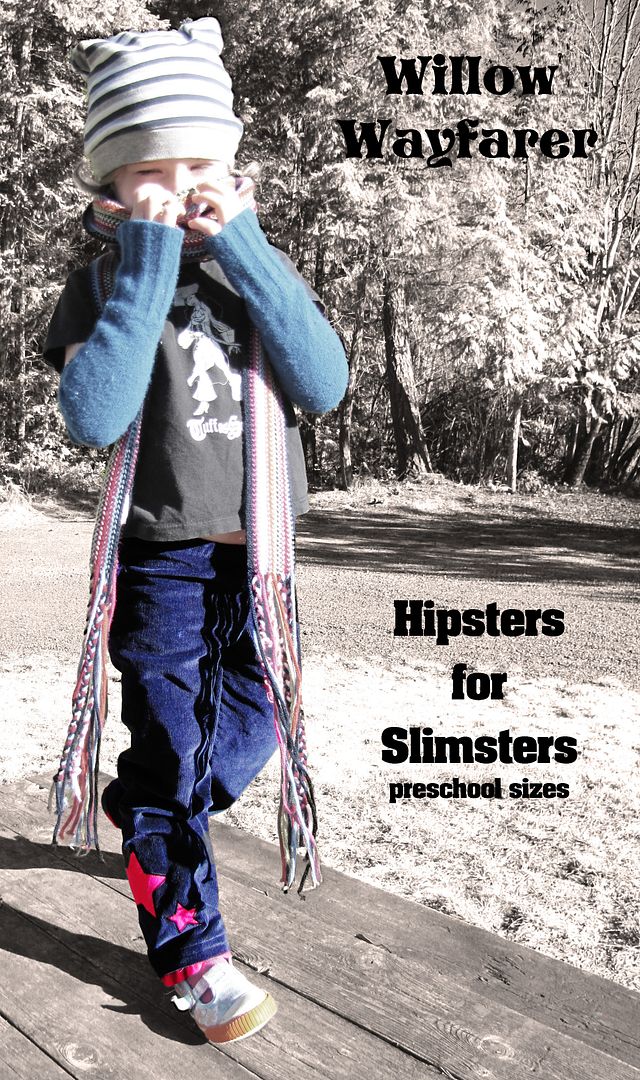 Would anybody like a chance to win a free PDF copy of the Willow Wayfarer, Hipsters for Slimsters pants ePattern?
If you are just dropping in now, I will tell you that I developed
this pattern
for my daughter Smootch, who is not only thinner than the average child, but insists on wearing her waistband pushed down low on her hips. Even if I can find a pair of Ready To Wear or alter a regular pattern to fit, they look ridiculous when she pushes the waistband low, making the crotch hang somewhere between her thighs. Then as she moves, the waistband creeps back up, so she pushes it down again, and I have to spend the day watching her fight with her pants.
Plus there was a small, slightly indiscreet issue with low sitting trousers. Sometimes, as Smootch bent over to pick up a toy or touch her toes or crawl around in a crouched position or any one of the hundreds of reasons she found to bend her body, we'd get a little peek on the back end that made people want to yell at her, 'pull up your pants already, child!'
This is my solution. These pants are made to be worn on the hips but come up slightly in the back to keep things modest. They fit slim or slightly built children approximately 2.5-6 years old (hip measurements 20" to 23"). The legs are easily adjustable in length, good for both smaller than average kids and the tall and thin ones. And, the best part, there is only one pattern piece to cut both sides of the pants, which means they are very quick to sew (as quick as the
Birdie Britches
, could be as fast as 20 minutes).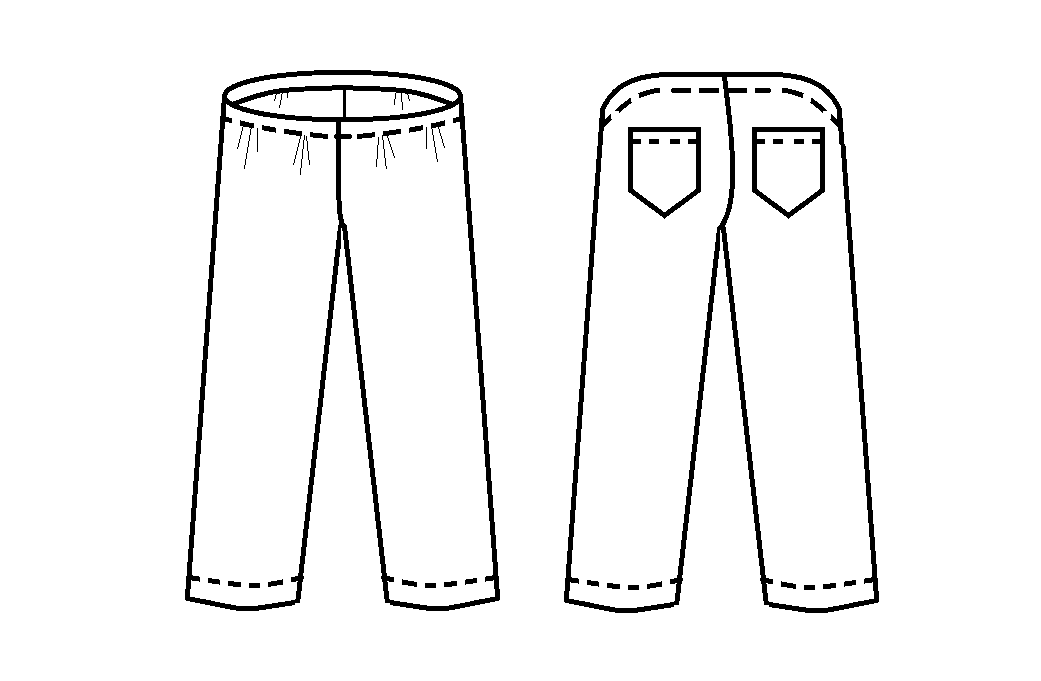 Dress up the pants with ruffles or lace on the bottom, appliques, or contrasting pockets, or keep it simple for wearing under skirts or with a t-shirt for playtime. Willow Wayfarers work for girls and boys, and any woven fabric (I particularly enjoy the baby cord, linen, and twill for durability and comfort). Willow is for the slim little beauties and Wayfarer for the rambling, traveling, cruising,
always moving
beings that children are.
Now, that I've talked them up, do you want to try it out? Just leave a comment on this post and I will make a random draw on, oh, say Monday morning (April 5th). Good luck :)
One last thing: I am planning a regular fit pants in the hipster style also, for all of those who asked for such a thing. It's not the next project on my list, however. I have a brief stop over on the girly, twirly side of things first ;)
***************************************************************
Happy Monday All!
I've done the draw and came up with Dana, who I will be emailing shortly. Thanks all for playing and thank you thank you for all the lovely and supportive comments. Apparently there are a quite a few children out there who have exposure problems :D Just doing my part to support their families and maybe help cover up few bottom tops too.
For anyone interested in a PDF copy of the
Willow Wayfarer ePattern
, it is now available in
my shop
.
Thanks again, everyone!