I take the making of messes very seriously. I think that they are absolutely vital to living well.
The making of stuff,
and the enjoyment of stuff,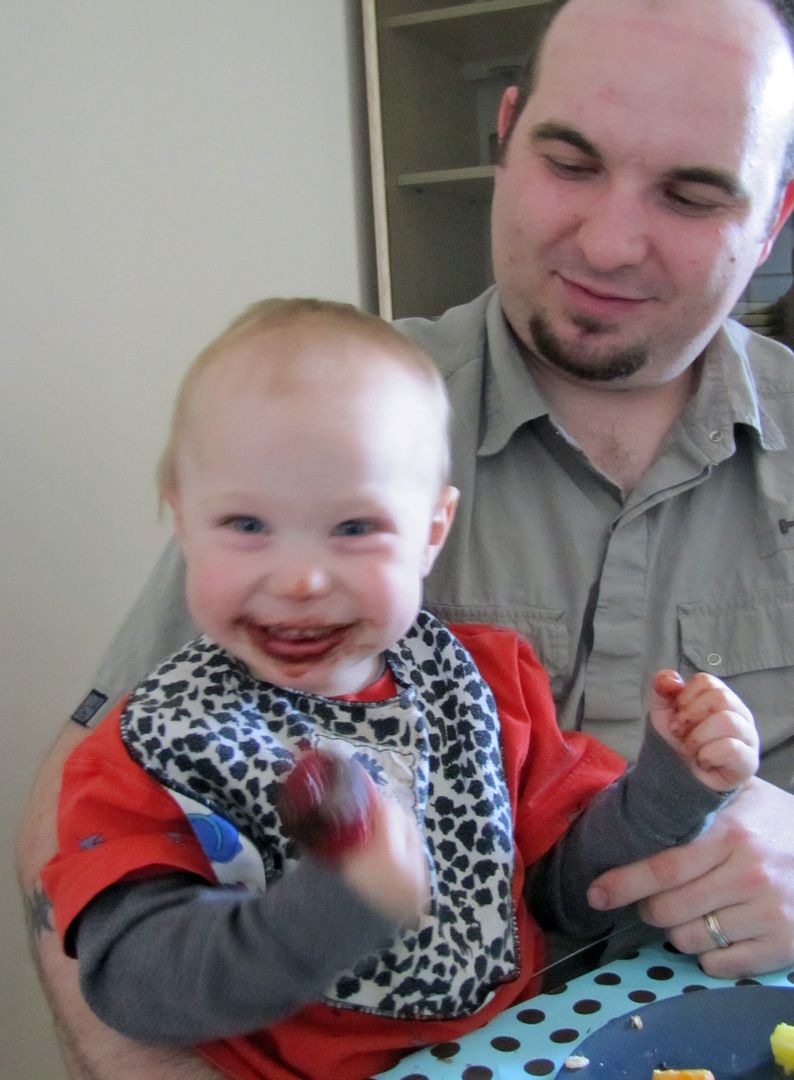 is all very messy. This is life.
Usually, I relish a bit of mess. If giving birth taught me anything, it's that the best things come with disarray and a whole lot of gunk.
Mess is good. There is gold in the silt.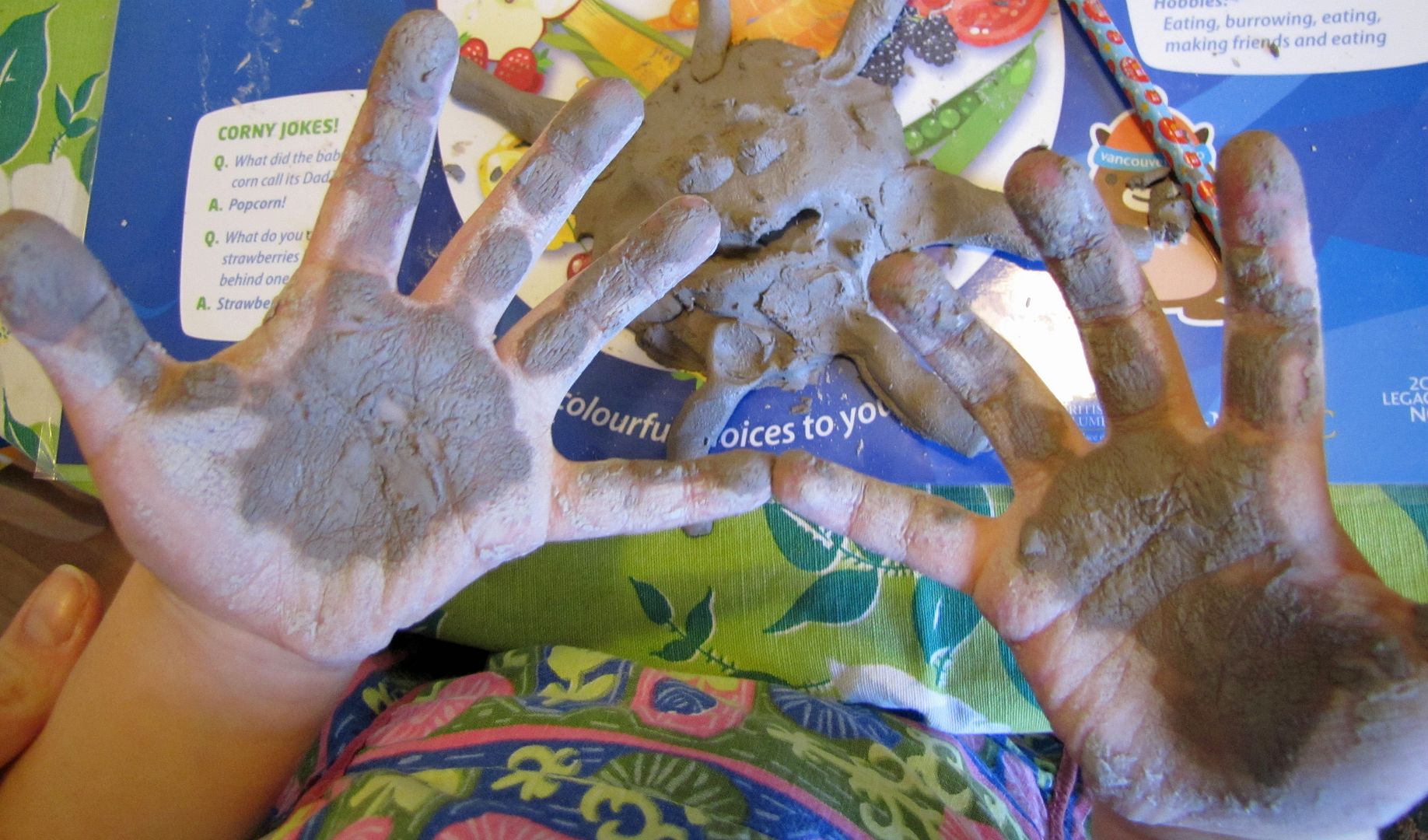 But, I confess, sometimes I get uptight about some sorts of mess.
Messes like the markers that wash off clothes and the table, but not hands. I hate those markers. When I see the kids have managed to find them again (how do they do that?!), I feel seriously put out. I also get tetchy about tape and glitter and plastic confetti. A lot of that has to do with the arts and crafts studio also being our dining room table. I just don't fancy my pancakes with sparkles.
And then there are messes that border on the edge of crazy making. Messes like the wearing of the Cinderella dress that was handmade for a certain little girl's third birthday, which was not only greatly demanded prior to the party by said small girl, with all sorts of dithering and deliberation in the choosing of the fabrics and colours, but, then, greatly derided as too short and
not
what was desired
at all
, and banished to the far reaches of the closet, unloved and forlorn. But then,
whoa!
, two and a half bloody years later, pulled out of the dress up bin with completely new eyes, where the certain little girl adorns her precious body with it and wears it all day, in and outside, with dirt, peanut butter, and tomato sauce saturating the satin fibers. This is the
mess
where the little girl has absolutely no memory of the Cinderella birthday dress and is adamant that her mother did not make this beautiful dress,
no way
.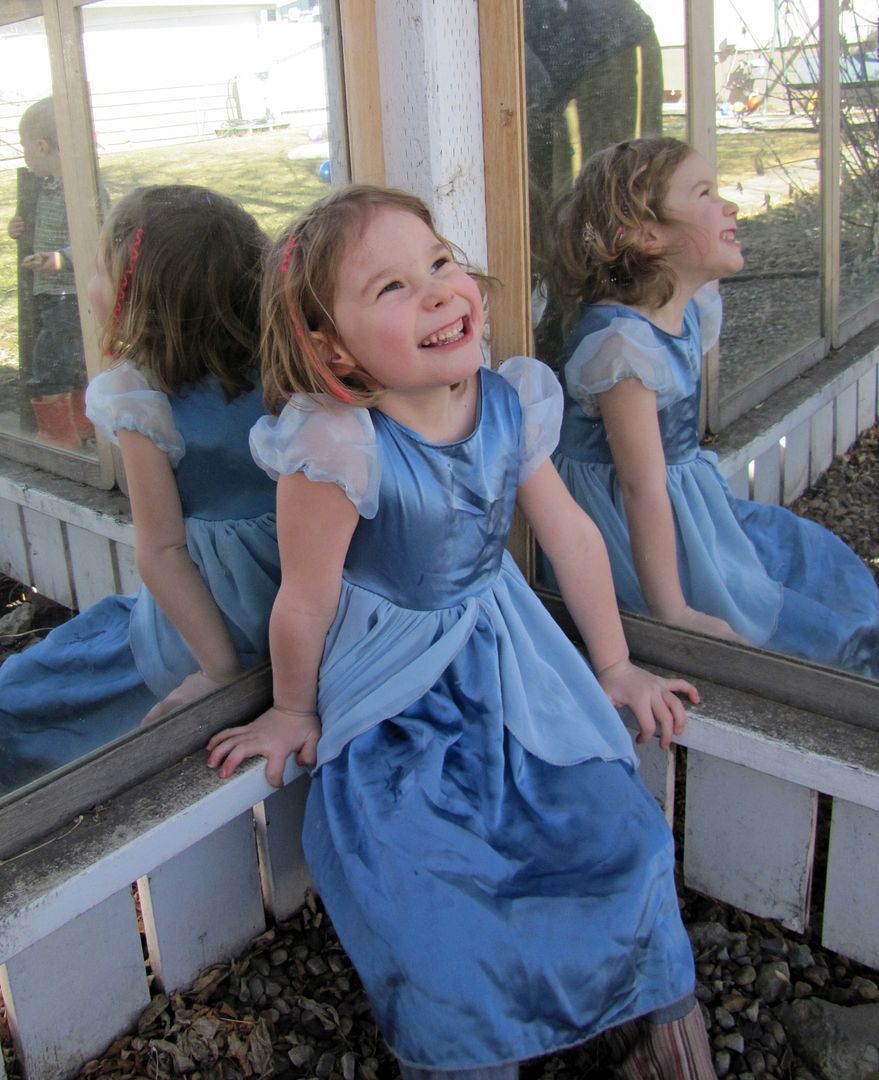 (Deep breathing... Calming down...)
Okay.
I've got this thing, though, where I like to give myself a nudge every once in awhile. A little push out of the comfort zone. For the greater good, I think. For self growth. Or modeling appropriate attitude for the children or developing a sense of inner mastery and order by being OK with external disorder and all that nonsense. Mostly, I it is just a part of who I am. I feel a limit to be an irresistible challenge. I rebelled against my parents, my teachers, authority, The Man. Have limits, will push. But now, I'm the parent, I am the teacher. So I give myself a nudge to see what I will do.
Y'all remember my
Crayon Liberation
. That whole exercise was about me letting go the controls and remembering what exactly it is that I am doing here with these little minds and their great oceans of potential. It's one of my prouder parenting moments.
But it's not like I'm cured of anal-ness. Smootch still likes to peel the occasional crayon. And I still have to breath through the experience.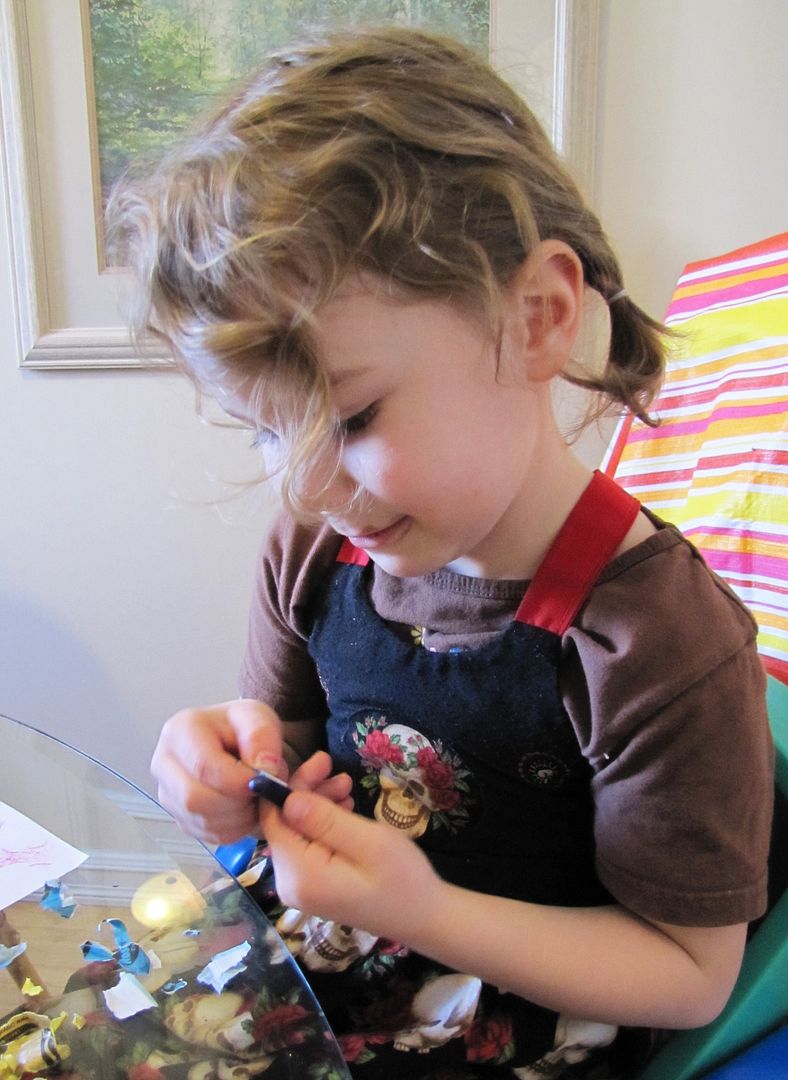 Yet, crayon use or misuse, at this time, is pretty light-weight stuff. My personal nemesis of late, at least in the mess department, is crafting with children of different ages. It's a whole new game. Painting, for instance, with a five year old is a completely different animal then crafting with a two year old. Both children will make a mess, all fine and good, but together they make
two completely different messes
.
The five year old will paint on the paper, maybe on her face a bit as she ponders a particular brush stroke while chewing on the end of the paint brush. And then, because she is five, she will wash up her own brushes and water jar and completely destroy the bathroom sink and floor in the process.
The two year old will paint his hands, the table, the chair behind him, then drop the brush so that it slides down his clothes and finally onto the floor where the overloaded brush will splash paint up underneath the table and the wall behind. Two days later, the paint that has somehow made its way up on the ceiling will finally be noticed. There will be only the faintest hint of paint on the paper.
I'm know I don't have to articulate to many of you how difficult it is to craft with children of different ages. Preaching to the choir here. The varying needs, questionable appropriateness of materials, the ways of making messes being
so different
that there are, in actual fact,
two messes
(or more) to clean up for every one activity.
Oi. I'm tired just thinking about it.
But, and here's the magic about multi-age group creativity and activity, when it goes well, there is so much more for everyone to learn and enjoy. Community, a sense of belonging, trust in each one another. The big ones teach the little ones about doing, and the little ones teach the big ones about articulation and patience. That's the payoff to making messes in harmony.
So, here I am tonight, after the children are finally in bed asleep.
Nudge, nudge, nudge.
Remembering what it is I am doing here.
And now I'm going to put together my house again. With rags, hot water and vinegar. Ready for a fresh mess in the morning.