Our small house seems especially so mid-winter. We are spending more time in places with large plate glass windows. The library, the coffee shop.
The home of the green sea beast is one particular place that I try not to frequent. Even though we can spend a couple hours in the dark chairs, reading books and playing card games while soaking up sugar and sunshine, I usually have two handfuls of trash to drop in the bin on the way out the door. It rankles me to be a 'stay-in' customer given 'take-out' containers.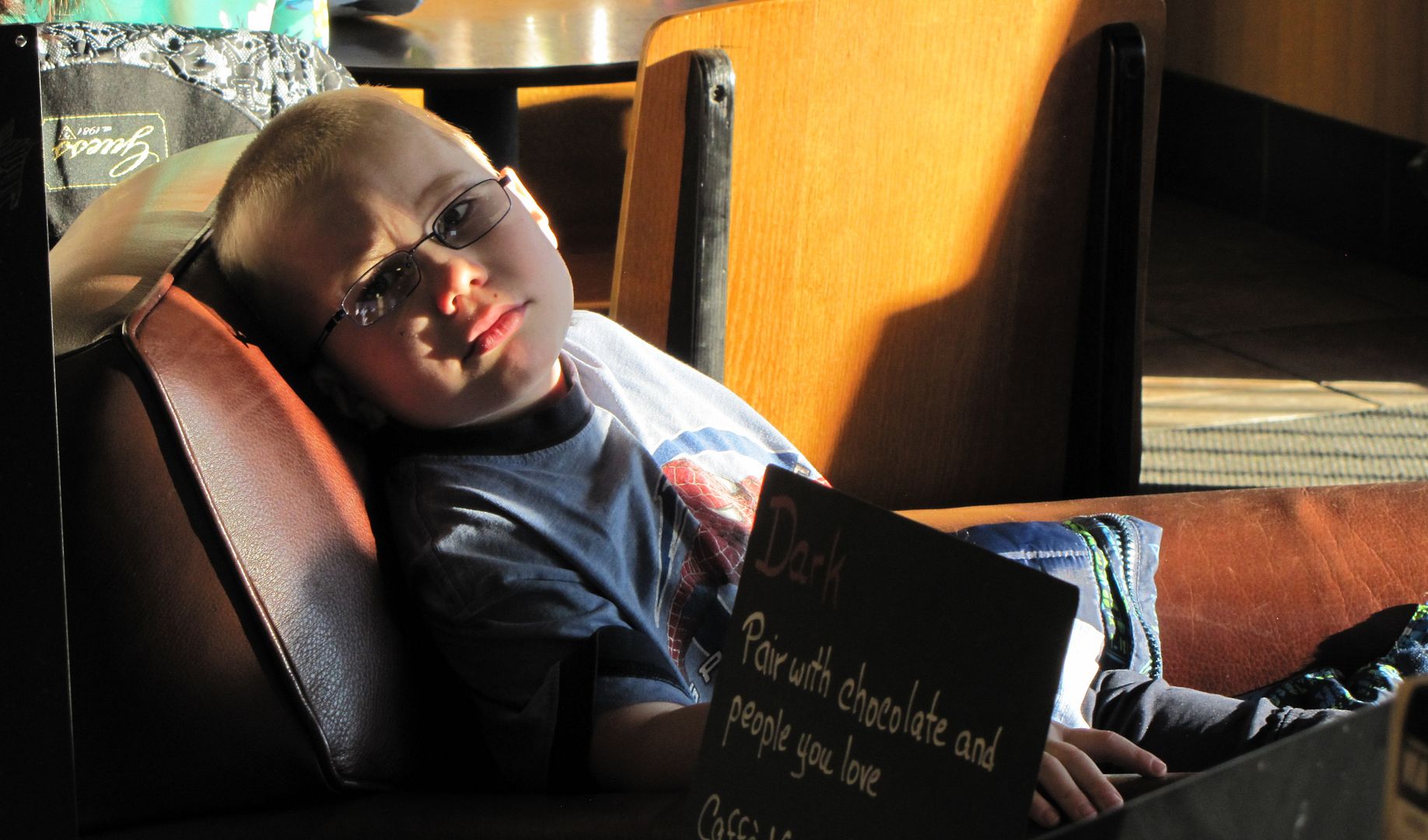 We are not the type of family to make new year's resolutions but, a few weeks belated, we've decided to set a one year goal. Being in our small house and using the shops as a mini-holiday from it during the winter, the stuff has reached a maximum. I define the absolute limit as the point when I start thinking I need to go buy some plastic boxes to store our stuff in. This is the thought that sets off my internal alarm bells, letting me know that my thinking has become dysfunctional and it's time to take stock and reset my priorities.
Our one year goal is to not bring home any stuff that is not consumable
(food and drink, garden seeds). Exceptions are any materials we need for home repairs because, well, you've got to keep the eaves on the roof and the plumbing in good repair and necessary clothing for growing children and replacements for worn out items (we're talking undies and socks here). I'm going to make some of the kids clothes, of course, but I'm not so good with the snow boots and that sort of necessary evil here in Canada. Crafting and home school supplies for the children also, although I'm going to insist they use up what they have first. I'm almost certain that will take an entire year, especially if they make an effort to reuse/fully utilize paper.
Another exception I haven't passed by The Man yet but I think is important is replacement items for the household, such as towels and whatnot. I'm thinking about this because I break a dish nearly every week (mainly accidentally). If I do not replace, we'll be bereft of plates by spring. For these replacements, second hand shops have plenty for us, so nothing new or unnecessary.
Truthfully, I don't think I've ever stuck to a whole year challenge before but since we live like the privileged fools we are and feel as if we are nearly drowning in stuff, I think we should make a serious go of this. Certainly it'll be easier than sticking to a diet or regimented exercise. We frequently donate to the thrift stores, we have all that we need and much more; I can't foresee a logistic problem. The obstacles I'm sure are mainly psychological. Will I feel deprived? I hope I'll feel like I have more time, space and money but, as I have learned in the past, the habit of consumption is a powerful master. We've reduced, not-bought, made do, did without, and yet, we are still here, with too much.
Anyone here ever give this a go? I'm wondering about birthday presents for other children (we give 'adventure gifts' to our own)? Should be buy stuff for others? What about if someone gives me a present? Should I refuse? I think The Man and I need to hammer out a few more details and fully articulate why we want to do this. Plus there is at least one item I have promised the family and a shop to buy - the board game Blokus, if you must know - should we just do without and see if we still want it next January? Since board games are part of our home school curriculum (I'm serious), should it count as an excepted home school supply? Or is that a sneaky justification?
Just over thinking everything again. Hey ho, we'll give it a go, though. And let you know how it goes. Input and shared experience is welcome!
p.s. I'm thinking of tagging on a refusal to buy one use containers. Or limit them as much as possible. Not just we all need to but also to close up that nasty loophole before the going gets tough and I start trying to explain to myself that it's okay to buy a book of paper dolls at the bookstore or get my buying fix down at the corner store getting snacks. Plus, almost everything in a one use container is just not healthy. Wait, bulk buying is suddenly complicated...