It seems that inadvertantly cause some hardship with the
Lena's Patterns giveaway
by asking commenters to list a favorite book in their house.
A favorite.
Just one.
I'm so sorry.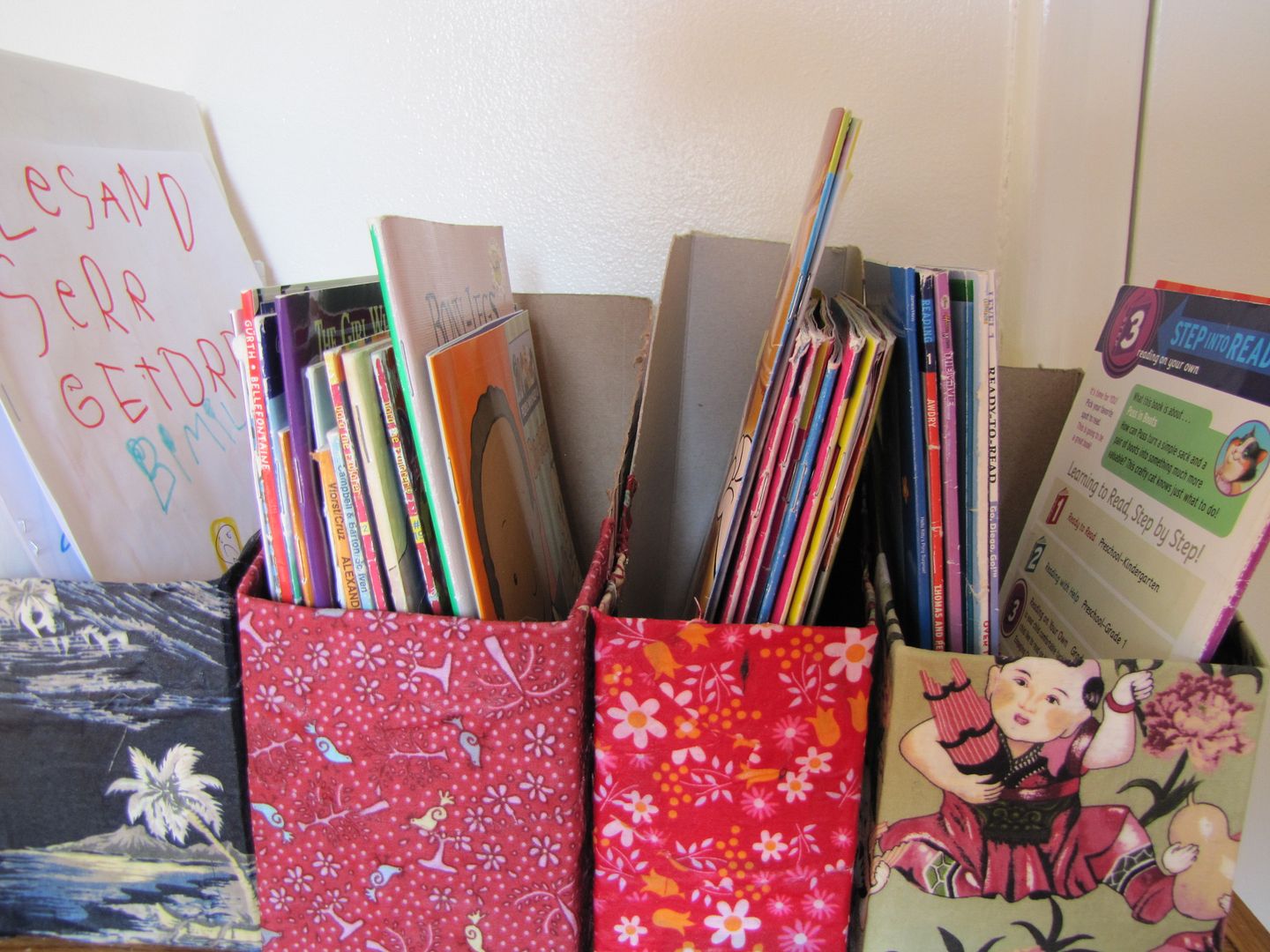 I should of known better. I don't play favorites either. I don't have a favorite colour or animal or food. I like them all. Or most of them anyway. Depending on the context. No way I could take it down to just one or even two and if I did, I'd feel like I was betraying parts of myself and being untruthful. And with something as important as books, if asked to list the ones I like best, I would have to name at least five or six in every genre. More than anyone, I hate to reduce it all to just one.
Again, sorry.
But I feel your pain.
This is the week that I have begun reducing our household to movable size. We have just over two months left in this house and I am not wanting to move it all again. Even if we end up just done the street. I've also become enamoured of the word
minimalism
and how it
applies to family life
.
Yesterday's simplifying project: Books.
My approach to decluttering is to pile it all up, put half of it in a box, sort the remainder, get rid of another half, and then organize what's left. It's usually fairly straightforward (though, not entirely without drama).
Decluttering books? Well, that's not simple. Because books aren't clutter, they are my life.
In the end, I only boxed up a couple of books that were either not loved by anybody anytime or outgrown. I kept my collection of books for the children to read as they grow (picked up for 10 cents each at thrift stores), even though it could be ten years before Smootch gets to some of them, and our hardcover reference books.
This is also the week of unexpected gifts. Several times I've found someone outside my door with a bag or three of something special, including a neighbor with a couple dozen fresh baked chocolate chip cookies as a thank you for helping dig out her van out of a snowbank this past winter and a derby teammate with some books from her nearly grown children.
I love to see what books people hold on to far beyond the time when anyone has even considered reading them. Usually the reason for their long shelf life is due to sentiment of a enchanted time (I have baby books galore still) or it is just a really great read. I like to pay homage to this particular form of love and give them some extra attention to see if I can discover why this book or that is so special.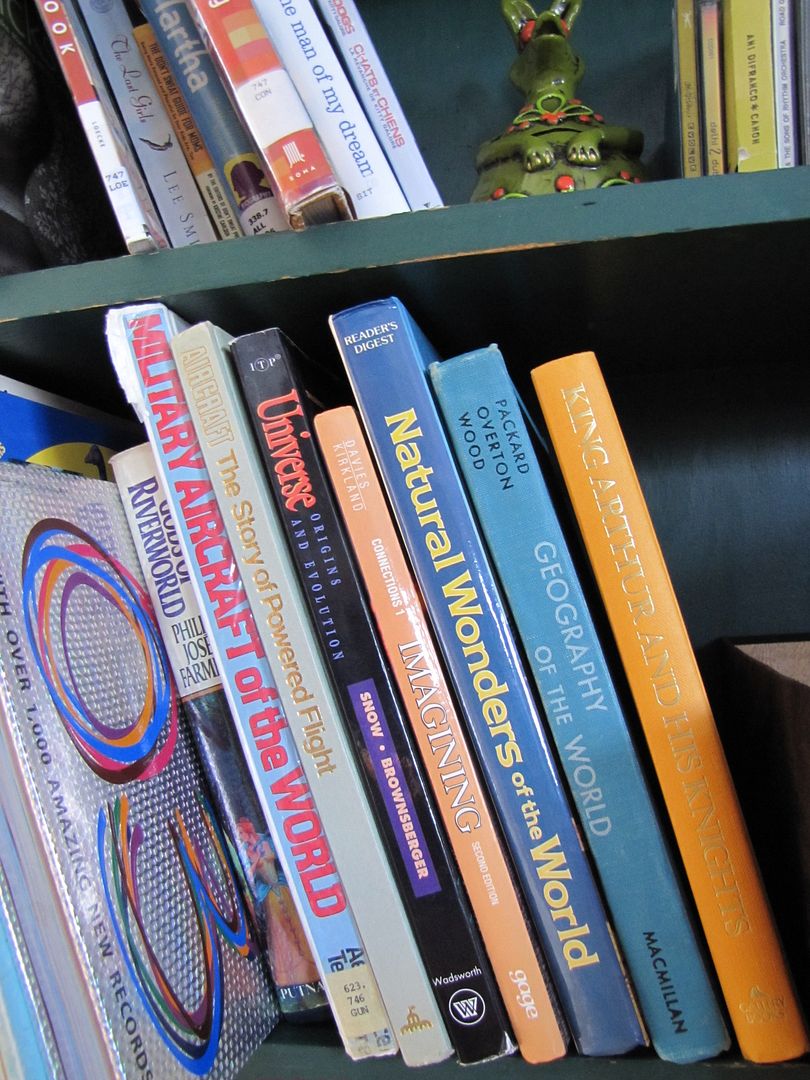 You know how they say when the student is ready, the teacher will appear? That is just how I feel about having a full to capacity and beyond bookshelf. I put by books by for the same reason why I put food by. Because I never know when I will suddenly need the sustenance.
So, thank you to everyone who shared their family favorites and I once again apologize for any grief I caused by asking for just one title. To make up for it, I will pass along a (very short and incomplete) list of our favorite books.
Smootch's favorites today:
Anything
Berenstain Bears
Wocket in my Pocket
by Dr. Seuss
Pinkalicious
by Victoria Kann
Anything
Scaredy Squirrel
Birdie's favorites today:
Goodnight Moon 123
by Margaret Wise Brown
Up, Up Down
by Robert Munsch
Where the Wild Things Are
by Maurice Sendak
Anything
Dora the Explorer
Mega all-time favorites:
Dinosaur Roar
by Paul Stickland
Twinkle Twinkle Little Star
by Iza Trapani
Ain't Gonna Paint No More
by Karen Beaumont
Mr. Brown Can Moo
by Dr. Seuss
Knuffle Bunny
by Mo Williams
Vegbee's favorites today:
Food Security for the Faint of Heart
by Robin Wheeler
Gods Behaving Badly
by Marie Phillips
Creative Play for your Toddler
by Christopher Clouder
Anything
Terry Pratchett
If you blog about your favorite books, please share your link with us below. I'd love to hear why your books make you happy.