A little while back
I posted about the food we grow indoors
and I was asked to talk a little bit more about our sprouter. Sprouts are a staple of our diet. We eat them on sandwiches or straight out of the sprouter. Mainly we grow alfalfa, radish, some non-gmo canola, and other small seed 'sandwich' types. I have grown bean and lentil sprouts for stirfrys and even sprouted a some nuts to use in a raw food recipe, but generally we just keep a container of little seed sprouts on the shelf at all times and they get eaten as matter of course. (If you take a little peek to the right on the below photo, you can see my first go at fermented food - super yummy salsa.)
Our sprouter is of fair age. It's the one my husband's mother had when my husband was little. I can't remember exactly when we acquired it, but it was well before Smootch joined us. It's so old, it was actually made in Canada.
I really like our vintage sprouter. It's up to three tiers of sprouts, which you can stagger their start times to ensure a steady stream of sprouts at their peak. Plus, you water it twice a day, a job Birdie has taken up with relish, and it neatly waters all the sprouts at one time and then drains into a sproutless basin in the bottom.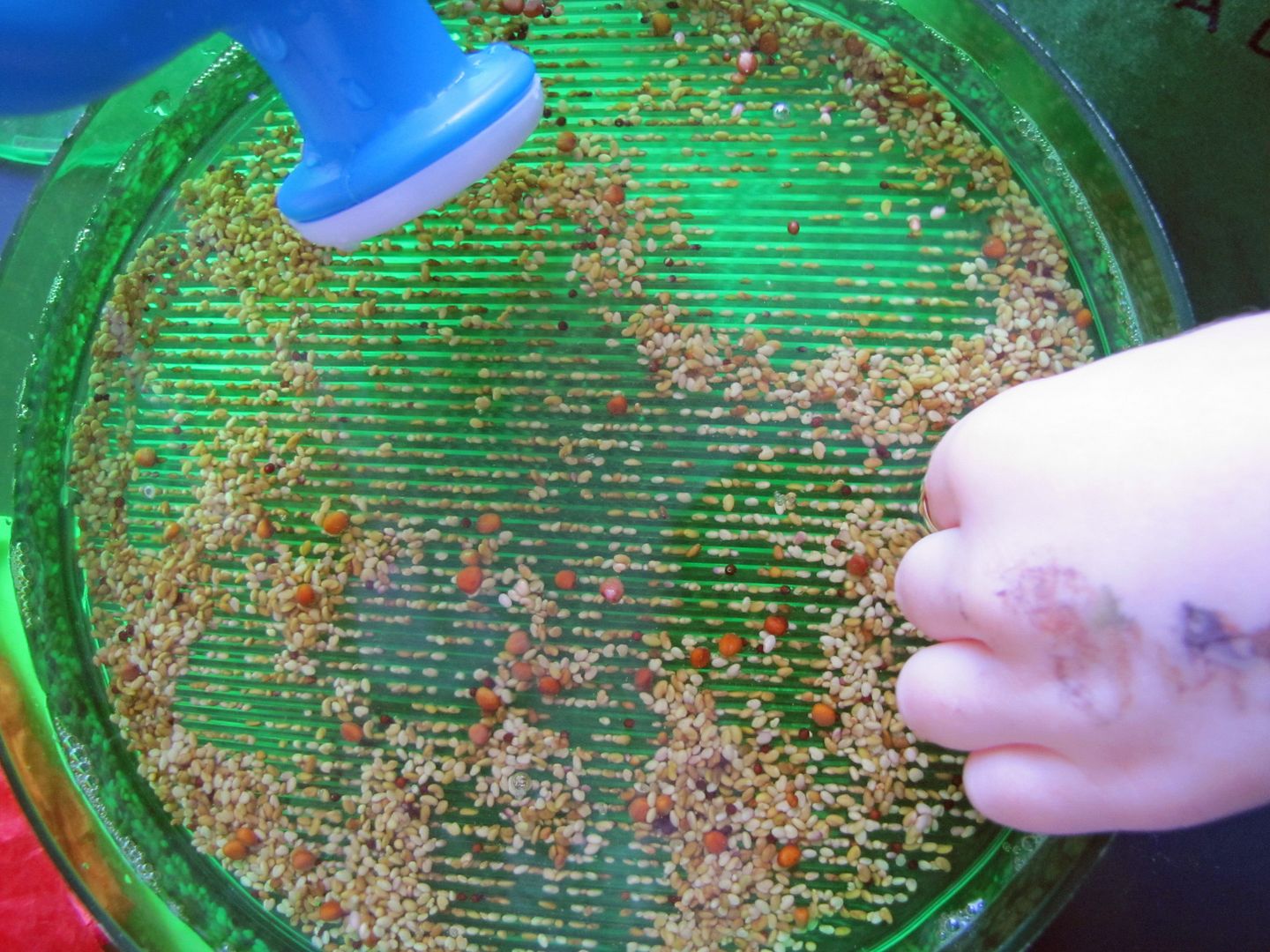 I would highly recommend this style of sprouter, but you can grow sprouts with what you already have in your house.
Here is one way using a glass jar and nylon net.
As for buying sprouting seeds, we have purchased them here and there, mainly in health food stores or speciality organic food markets. A large packet of seeds is of relatively small cost and goes pretty far.
I'd like to tell you how delicious and nutritious sprouts are - because they really are little wonders - but even if I didn't like to eat them, I'd probably still grow them for the sheer educational value they've provided our children. They are biology lessons growing on the counter and almost like low maintenance pets that you only have to look after for a few days before they magically disappear (in a salad).
Best of all, they provide the toddler with an outlet for his pouring obsession. Between the sprouts and our newly growing container greens, he's almost stopped suddenly dumping his water glass over his dinner plate.
Almost.