Thirty four hours until moving day. I am feeling such a sense of loss, getting rid of my fabrics and notions, sending the handmades away to the thrift store, slimming the collection of children's drawings and sculptures down to just a few transportable items. There is oddly not much work to be done physically (though we are having a garage sale right now, so I wouldn't say we've gotten off lightly), but emotionally this move is taking its toll. Birdie has been growing increasingly frantic at our changing and ridding, becoming a bit more unglued every time another item is put into a box. Today, when I was taking a few toys out to the garage sale area, he grabbed a hold of his beloved toy vacuum and hid in the corner with it. Splam! is the sound of guilt knocking dents into my heart.
And then I found this: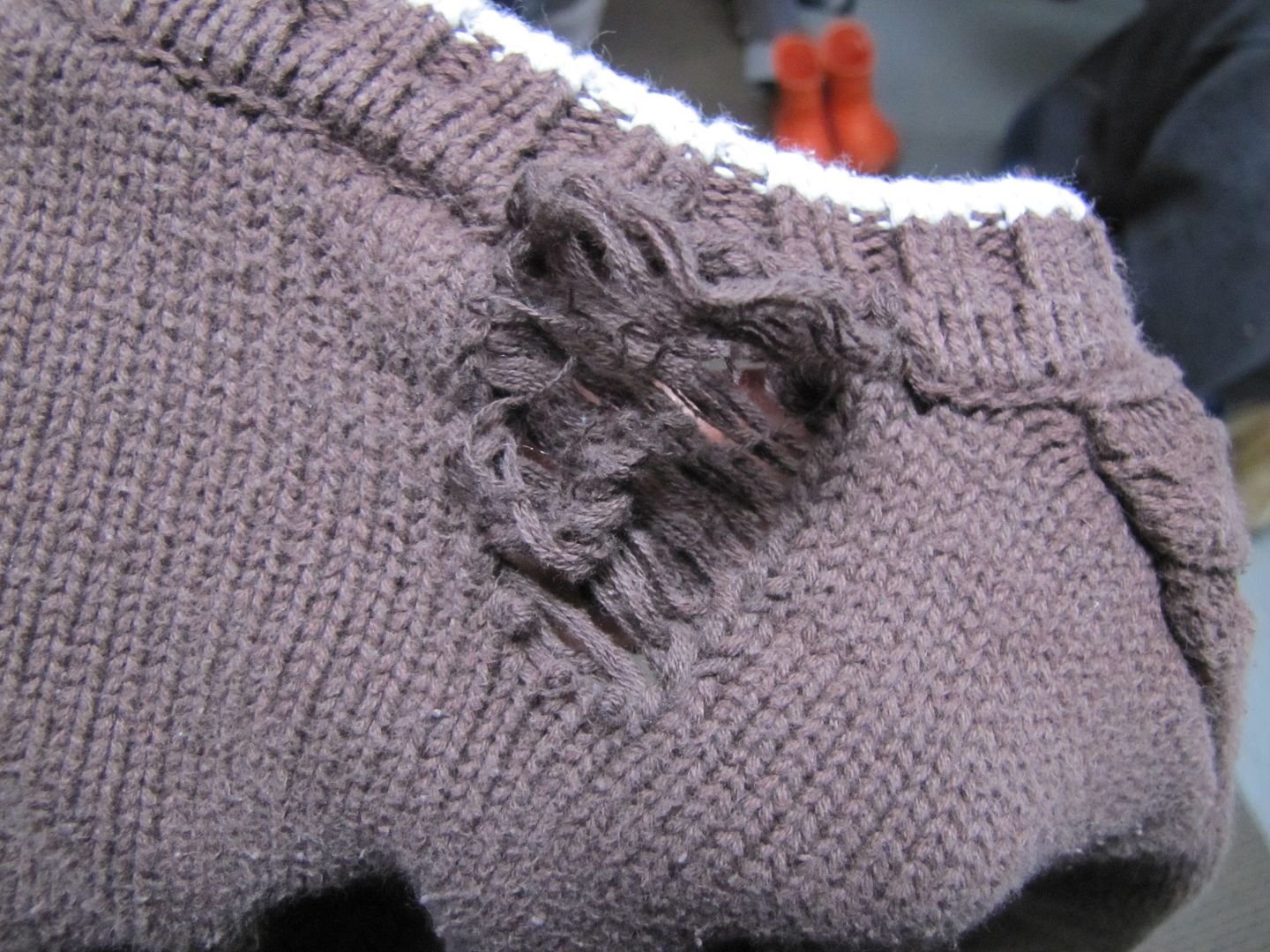 That is the unraveling back of Birdie's favorite sweater. It's not wearable anymore. And the moving preparations have dulled my creativity to the point where I can not think my way through to fixable solution. I am left with the dilemma of whether to pack this broken sweater with us, taking up precious space and possibility outing another, more wearable sweater, in hopes of being able to resuscitate it on the other side somehow? Or do I accept the inevitable, pull the plug, and hope that Birdie's fragile sense of order and familiarity isn't too firmly attached to this particular garment. (Splam!)
I know that when one door closes another one opens. Birdie doesn't know. He's not yet even two years old. He'll stand at the closed door all day and beat his fists against it until someone picks him up, gives him a cuddle, and carries him over to the open door. He'll figure it out eventually. I know. Shoolk! is the sound of my big girl shield deflecting the guilt bombs.
Until we manage to get through the door, there is cocoa for both of us.