There has been a bit of time since my last post. It's funny, but having a blog about doing stuff, specifically crafty stuff, means that when I get busy and really creative, I have even less time or even material to post about.
Not that I am producing any physical projects worthy of note. Unless you consider the continued survival and even, dare I say, occasional flourishing of my children? That's creative enough for any parent, I figure.
The childs have been busy. Girl child, in particular, just had a series of big deal solo performances. She did the
Jabberwocky
poem in Carroll's
Through the Looking Glass
, which, if you are not familiar with the piece, is a few verses of largely nonsense words that happen to include the beast-icide of one aforementioned Jabberwocky.
Girl child performed
Jabberwocky
for her drama class showcase, the local performing arts festival and then was invited to perform again for the arts festival showcase. Because she's so awesome and rocked that bizarre Carroll nonsense!
Girl child, with vorpal sword in hand, in her (career total) forty-eighth public performance:
(Why am I counting her public performances? I don't know. Is that crazy?)
Boy child, still mainly unsuccessful in sitting still and quiet through dramatic performances (especially without loud, weary sighs of abject boredom) has discovered at least one benefit of having a sister in the performing arts: post performance receptions. With cupcakes!
In related theatre news, I do have a costume assignment for the upcoming youth theatre production of
Sweeney Todd
. Yes,
youth
production of
Sweeney Todd
, the butcher barber. You did read that right. I'm very curious to see the show and probably won't take my own kids. I have no pictures of costumes or even the
Sweeney Todd
poster, though, so I present this random peeled mango instead.
See gory, but still appropriate for youth?
I will also show you this moth. Because signs of spring are so exciting I have to share every one.
Speaking of signs of spring, I also managed to sunburn my legs today, but you do not get a picture of them. Have a crow instead.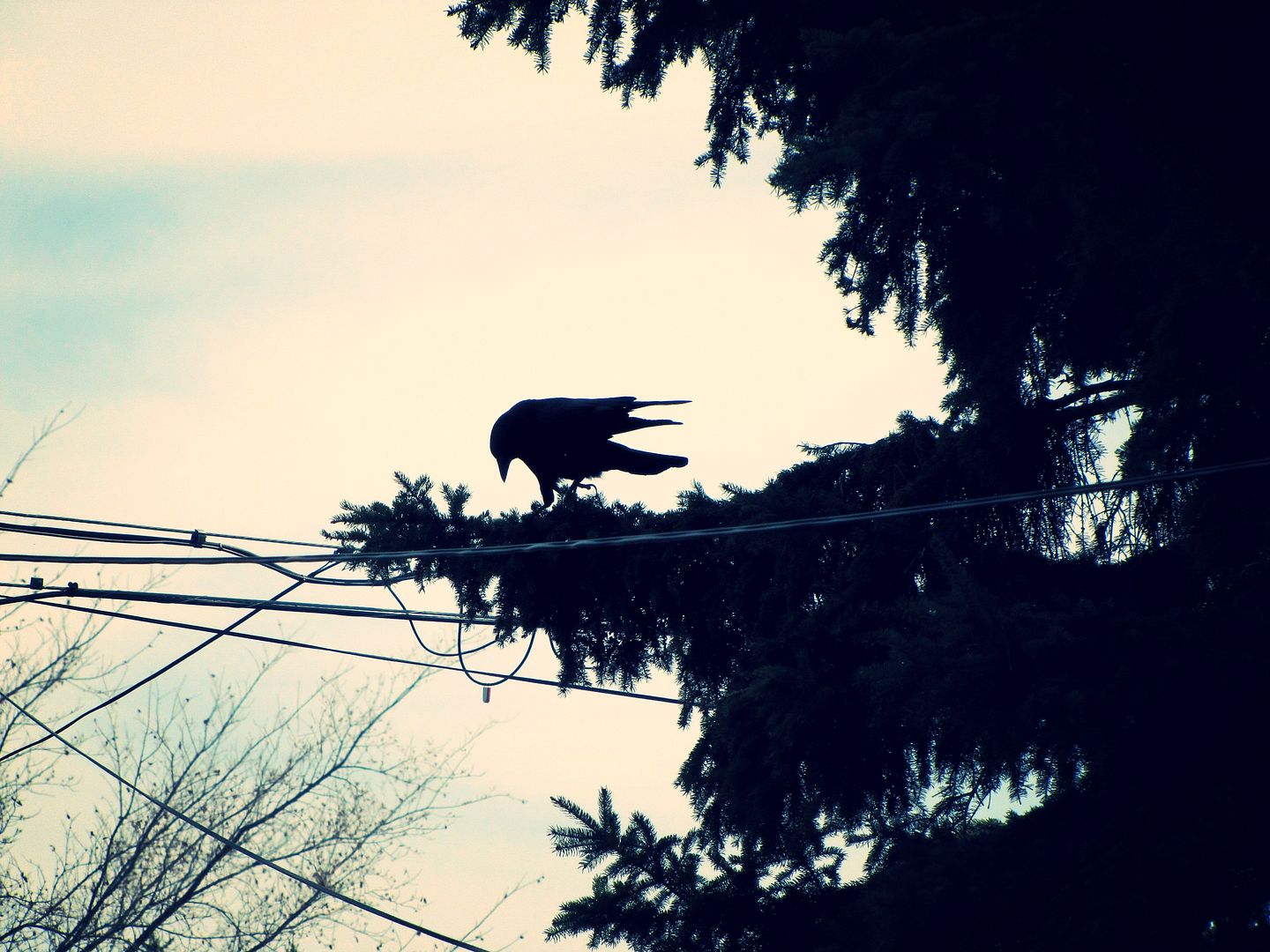 The childs and I have been delving deeper into what can only be described as homeschooling lifestyle. That's the point, I think, when every member of the house consider themselves to be homeschool students and everyday is a grand adventure in learning, no matter what we do. (Even when we watch
Adventure Time
. Someone is always learning
something
from that show. Good and bad.)
I love learning along with the kids and have started using my downtime to read some classic literature. Last week I read Thoreau's
Walden
and this week I've just started Cervantes
Don Quixote
. Which should take a few weeks to wander through (I swear, hefting the book up put my back out - all the more time to read while I convalesce I suppose).
Not every moment is a homeschooling treasure to hold but we are certainly finding our confidence and style. Our style sometimes includes all day pajama wear. Don't judge us too harshly.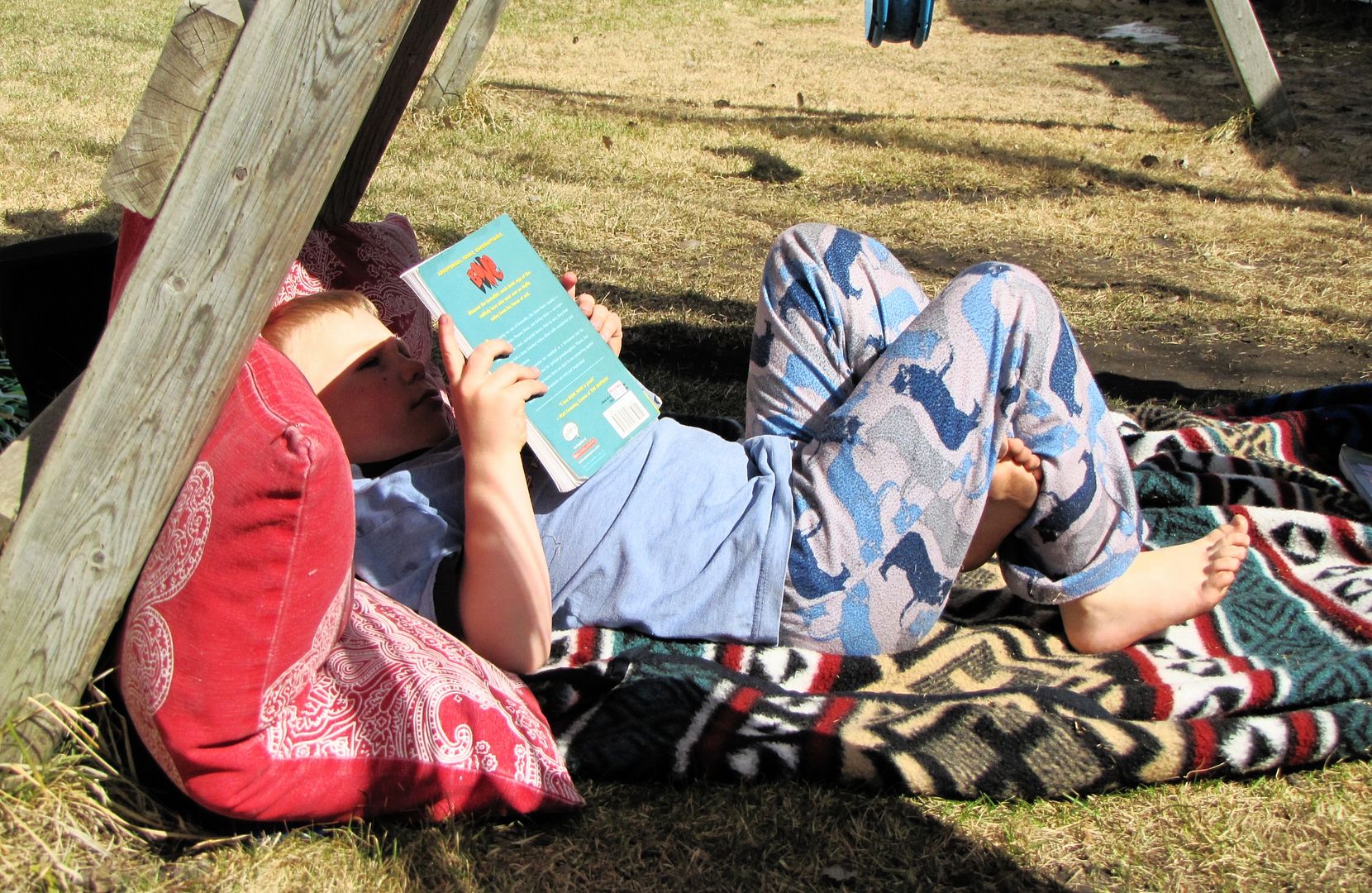 As for pictures of homeschool, however, you basically get a boring bunch of photos of the childs reading stuff or writing stuff or doing things that are quite ordinary like playing board games, riding bikes and staring into space.
Boy child's book favorites this week in which delightful chaos happens and no one has to sigh wearily at theatre performances. Because, according to boy child, being civilized is desperately tiring work.
I did get a pic of an experiment in progress though. It's been several days and no one has accidentally drank the salt water experiment yet. I consider that a successful project, no matter what else happens.
Despite outwards ordinary appearances, you can be assured that sparks of learning are growing into ed-u-ma-cation fireworks in their brains.
At least, I hope so. In my brain, anyway. (I loved
Walden
- why did I wait so long to read it?)
Now, my own personal tendency is to try to keep my maudlin posts about my kids off this blog (which I have failed at several dozen times, I know) but I haven't quite made the personal rule yet about whether I am going to excessively post about our homeschooling or not. I think I can handle some feedback on this particular topic, if you like. On one side, our homeschool and children's development it is a bit private. On the other, I have deep gratitude to all the bloggers who have shared their own homeschooling/unschooling journeys for, without them, I would be lost.
To help you help me make a decision, here is some pictures of girl child with auntie trying out some bee keeping gear she will be wearing in her role as beekeeping assistant. The bees arrive next weekend.
Who wants to hear about bees? And assorted topics of interest regarding children learning stuff?