I am reorganizing my home at the moment to be more congruent with our lifestyle. I am not entirely sure what I mean by this activity, but I have noticed that all the things I think kids should have they don't anything to do with and all that they actually want to do drives me mad.
I'm looking for a middle ground.
Every few months I try something different with the craft and art supplies to make it both accessible and self contained. My last go was at putting all of the supplies in clear jars on the a hutch desk in our kitchen. Beautiful accessibility, terrible failure at mess control.
Creative kids are amazing. And crazy making. Smootch was overtired a few weeks back and, as usual in such a state, began to lose emotional control. Instead of crying in anger or frustration, Smootch began crying with happiness. Whiny happiness, but still happy, saying, 'I love my crafts, mom! I just love my crafts!'
And she does. She loves them all over the craft area, down to the floor, and spread around the surrounding rooms of the house. There is not a surface here that does not simultaneously hold a couple little bits of cut paper, a sequin, a string tied to a pipecleaner and then stuck to a bit of tape (these are everywhere, I don't know what they are) and an actual finished project on display. Robots made from waterbottles and felt markers, pictures framed in taped together coloured pencils, trees made from fuzz balls, cinnamon sticks and cardboard.
Smootch loves her paper, scissors and tape much more than any toy I could possibly provide. When she 'needs' a particular item for play she will always make one from pipe cleaners, paper and anything she can pull out of our three or four boxes of random craft things, like scrap fabric and empty fast food containers, all the while ignoring the actual realistic figure or playset modelled out of plastic or wood that was created exactly to supplement the play she is doing sitting right there beside her.
Why use the glamour dolls for dress up when you can draw your own on cardboard and then tape actual fabric on for clothes?
Why use the dollhouse and figurines when you can draw rooms in a box and use clothes pegs holding up paper heads as the people?
Why use the road set and metal cars when paper and strapped together Lincoln Logs will do?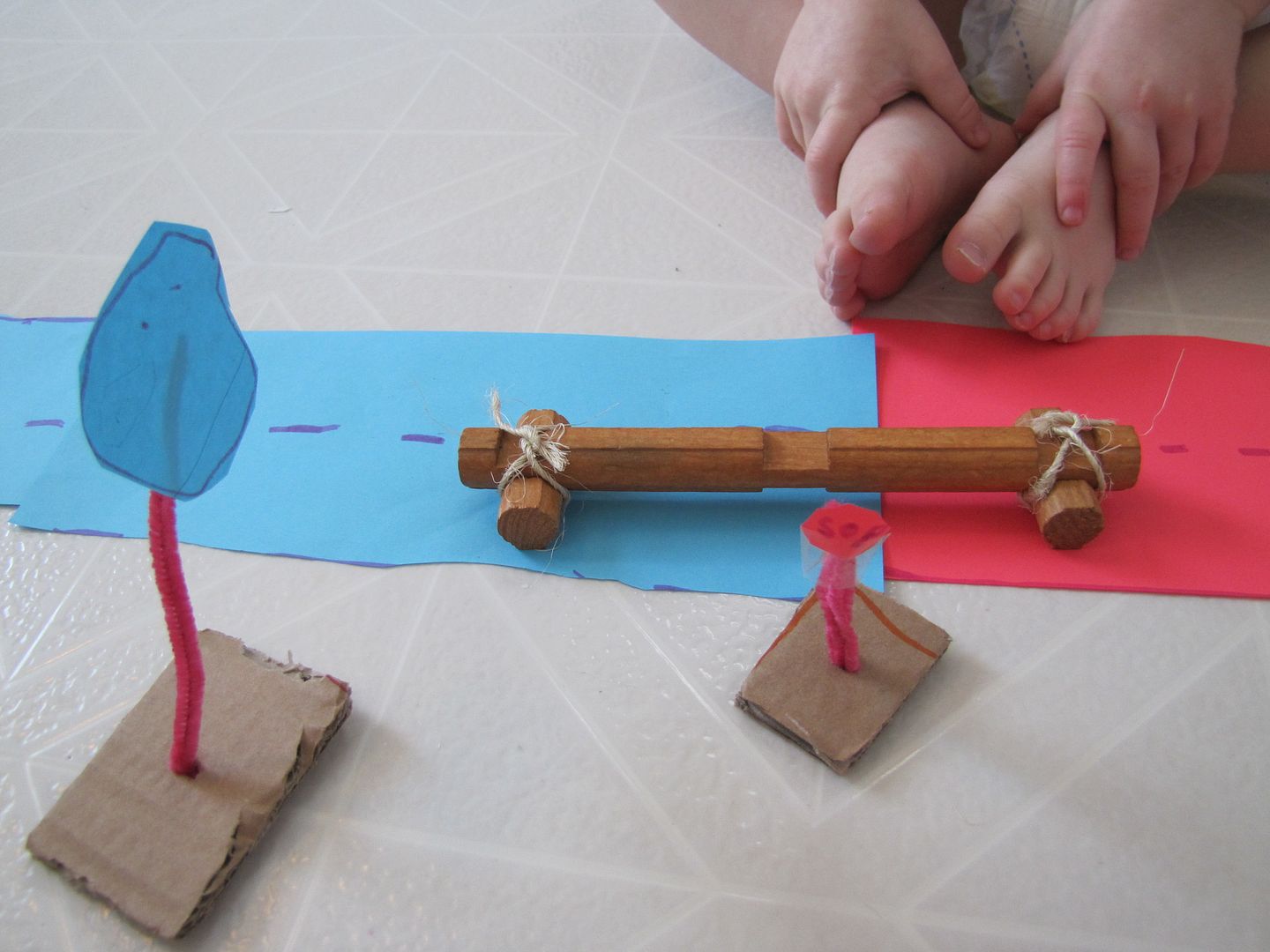 And she is taking her brother right along with her.
I am not complaining. Really. I'm just amazed I find myself trying to find ways to slow down the children's creativity rather than encourage them. In a nutshell, I can't keep up with the mess. The scraps of paper, bits of wire, beads everywhere. With homeschooling, the colder weather, and the recent onslaught on crafty materials in the house as our friends and family continue to downsize their own collections of clutter, I am swamped.
Time for another reorganization. It helps me maintain my illusion of control.
I am going to keep the accessibility to crafty supplies high, since, as has been noted, Smootch loves her crafts and frankly I don't think she'd be very well with out them. Perhaps I'm enabling here, but she doesn't notice when I 'store' all her toys in the basement but she can't go an hour without a pair of scissors and a role of scotch tape.
As for the detritus of the creative work, well, I think it's time to start enlisting the children's help a bit more. Smootch is pretty good about putting her things away, but Birdie is still fairly random with his placement and will dump a jar of beads or box of crayons if he becomes frustrated. I am thinking separate crafting zones, where they each have their own materials to be held responsible for, and a couple of child size brooms nearby so they can sweep up by themselves.
Since there is no definitive activity that can be finished and then put away, Smootch and Birdie have integrated drawing and constructing with their whole day, I am instigating several moments during our day where tidying up is expected, such as before snacks or a bath (they love the bath, a good currency to hold them to doing something they are more reluctant to do).
My best defense right against the mess while still satisfying the children's need to create is bundling up and getting outside. Smootch is never happier than when she is outdoors, climbing trees, and jumping death defying heights (I think sometimes she does these Evel Knievel leaps only to hear me scream because she always precedes a great jump from the top of shed with a 'L
ook
at me mom!'). Plus, nature is the most accessible 'craft area' I can think of. Everything needed to build fantastic fairy houses, beautiful figurines, vehicles and miniature landscapes capable of hosting any events is right there at their feet. And when the play is done, it all stays where it is.
I can't think of a better organizational system.