A few days ago we had our first visit from our homeschool coordinator, whose job it is to liaison between us and the school board. It went well and now we are officially in exclusive charge of educating our daughter. All legit. We have a list of objectives that is our responsibility to ensure she knows before she is nineteen years of age, a budget that is ten times smaller than that used for each public school student, and an optimistic philosophy of learning. Here we go!
Urk!
After the initial celebration that involved blowing up a couple dozen balloons using a manual air pump (new vocabulary words for Smootch: rod, baffle, and shrapnel) and hanging them from the ceiling on strings at exactly the right height to go against house rules and jump on the bed and knock them around, the enormity of our task set in and I began to feel a little
panic
overwhelmed. I'd have to say that this decision to homeschool is even bigger than the decision to have the baby in the first place. It's big. And now, there is much work to be done.
(For me, anyway. Smootch right now is actually watching
Hoodwinked
after spending an afternoon trying to find dead things in the woods to study with a magnifying glass. Smootch is feeling pretty relaxed so far with the way things are going.)
While doing a little pacing and considering my responsibility I spied one of the smallest members of our family soldiering away at his mid-afternoon kip (comes between his early afternoon snooze and late afternoon siesta).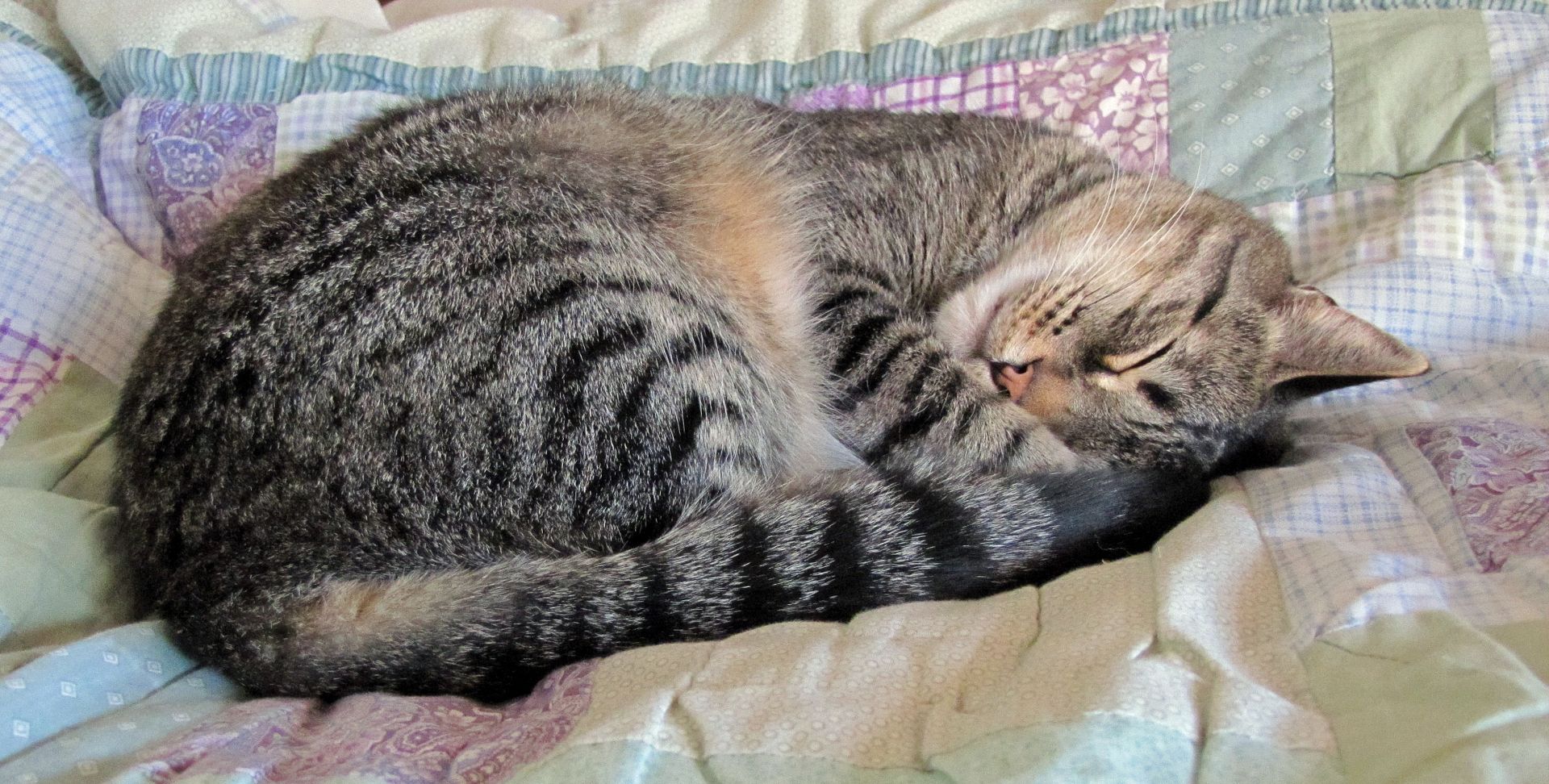 Cats really don't have much to do with anxiety, do they? With the exception of the occasional neurotic beastie, cats generally stick to fight or flight when the moment calls and other than that deal with the serious business of eating, sleeping, and, well, making more cats.
I feel envy sometimes. Damn frontal cortex.
Looking at kitty, I had this sudden urge to focus on and take care of my most primal needs. Forget about what needs to be done before thirteen years pass, what I really needed to do was be in the moment right now and nourish myself with soul satisfying food.
You know where I'm going with this. This was obviously a Chocolate Chunk Mocha Muffins moment.
I do not know where the original recipe came from, but it has been slowly modified over years. My recipe card was written, scratched out, added to, erased and smudged with cocoa and oil. Like all good recipes are. These muffins (okay, call them mini-cakes) aren't too sweet, but rich and satisfying.
Brought me to exactly where I needed to be.
So, anyone out there feeling a little overwhelmed? One way to get back to the moment is to take care of the basics. Have a quick nap then bake yourself up a muffin (recipe below). I'll refrain from any advice on the making of more people.
Cheers!
Chocolate Chunk Mocha Muffins
This recipe makes a double batch (an extra dozen for the freezer). Preheat the oven for 375 degrees Fahrenheit.
In a large mixing bowl, thoroughly stir together
3 cups of whole wheat flour
1/2 cup cocoa
1 cup sugar
2 tbsp instant coffee
1 1/2 tbsp baking powder
1 tsp sea salt
1/2 tsp each of cinnamon, allspice and nutmeg
Make a well in the center of the mix and add
2 cups soy milk
1 cup olive oil
1 tsp vanilla extract
Mix together until wet. Lightly oil two regular sized muffin tins (or one extra large muffin pan) and scoop a large tablespoon of the mixture in each.
Cut a dark chocolate bar into small chunks and lightly press a chunk in the center of each muffin. Bake for 15 to 20 minutes.