Today, I have nothing for you.
I wish I did.
I wish I had gotten done the yoke collared pinafore I am making for Smootch that is languishing half finished draped over the sewing machine. I wish the doll I plan on making of the captain of the Titanic for our young friend J's birthday this Saturday was also done. Right now the doll is a collection of half drawn pattern pieces as I still can not figure out how to make the double breasted coat with the fancy schmancy collar. I wish I had managed to finally figure out how to organize our craft supplies in this house without shelving but I can't seem to get past doing the dishes and the boxes in the basement lay waiting, yet to be unpacked, to even get around to doing this frivolous stuff like
organizing
.
Instead of doing these things I have been playing at just living. The portion of my life dedicated to fitness and roller derby is starting to take over epic portions of time. My time with the children is dedicated to reading books and negotiating trade wars over tape measures and flash lights. There has been some long walks in the fog, as tiny flakes of snow slowly cover the ground. Thoughts of the upcoming winter slow me down, make me more likely to watch
Glee
in the evenings than to sit at the sewing machine.
Instead, since I'm already there, I've started to pay attention to how sewing, needlework and crafting in general is presented to my children through books. The picture books I read to the children are often very kind to creative people, particularly women who make dolls, clothes, or blankets. Our favorite books about handmade crafts on the shelf right now are
Hannah and the Seven Dresses
and
The Quiltmaker's Gift
. Our ultimate favorite book about creative work, though not about handmade items, is
Ain't Gonna Paint No More
.
I haven't run across many negative portrays of the handmade in books, perhaps because writers and illustrators recognize and appreciate other forms of creative work. There does seem to be a significant amount of distributing material that is based not so much upon dislike of the traditional home crafts so much as cluelessness.
I have mentioned
that I have been spending a lot of time reading Dora the Explorer to Birdie Boy because not reading Dora to him would be like kicking a puppy.
Check this out,
From
Dora's Chilly Day
. Can someone tell me what the heck Big Red Chicken thinks he's doing?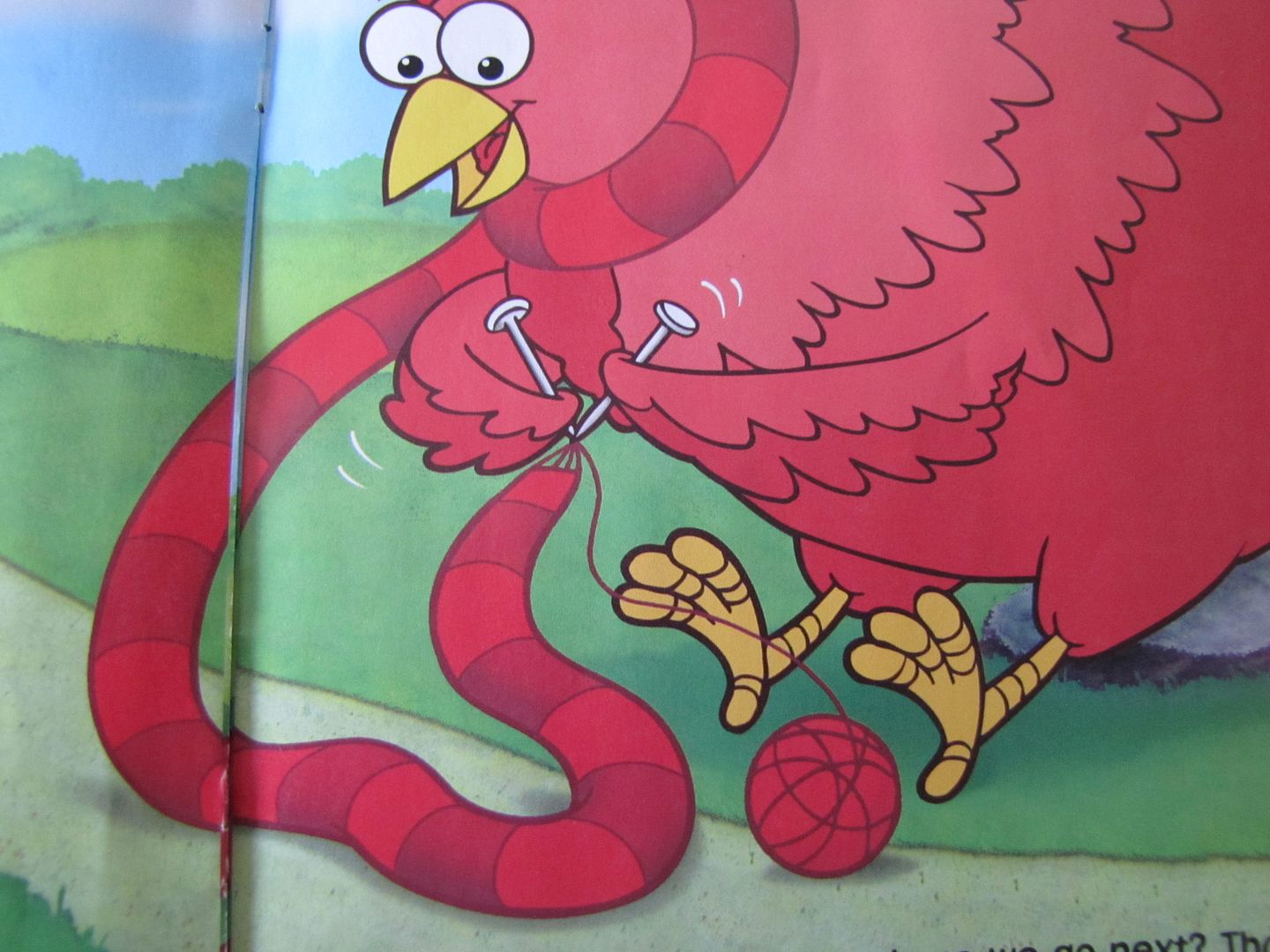 I'm not much a knitter, but I do know that generally the scarf would actually be tied onto a needle. Perhaps this some sort of funky double needle crochet? It looks to me that he is actually trying to nail some strings to themselves, but a nasty case of the shakes is interfering with the process. Perhaps the shakes is indicative of an even bigger problem for Big Red Chicken?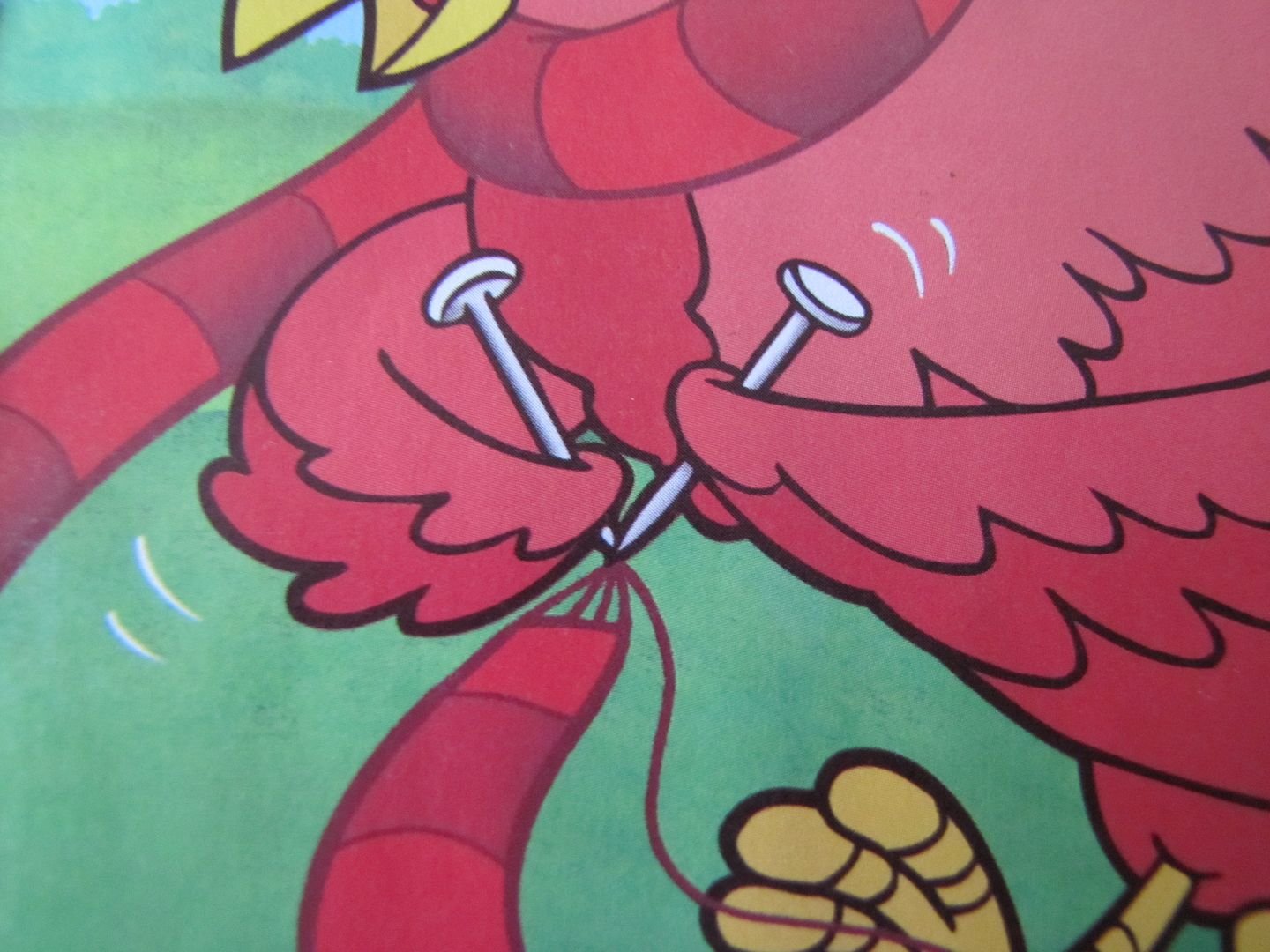 I'm a little flabbergasted. So much so, that I think perhaps Big Red Chicken is actually doing something totally legitimate and I am the one who just isn't familiar enough with knitting to figure it out. What do you think, is Big Red Chicken nuts or is it me?