Ahem.
I have a few messages to pass along, particularly for those of you who feel you do not have enough things to sew ;D
First up, the
Fair Weather Jacket sizes 5-8
pattern is now available once again at
my Etsy shop
.
Thank you for your patience with me, I know its been awhile since the pattern has been posted. I have been pondering making a printable pdf version available, but it would mean some thirty pages to print, then reassemble into pattern pieces with glue or tape. Great for puzzle lovers, but still feels a bit onerous to me. However, if any of you feel strongly about having a pdf version, let me know and I will reconsider it :)
Next to know is that the paper version of the
Tiered Patchwork Twirler (toddlers and preschoolers)
is also in the shop. I have to share with you this version of the twirler, made by Kelly of
An Apple and a Tree
blogging fame.
Kelly made this batik twirler using one piece of batik printed fabric. With the squares cut, she was able to divvy them up into colour groups and create this gorgeous fade effect.
I adore it. I've always looked at the batiks in the fabric shop but could never envision a project for it. I may have to break my no-more-twirlers rule just this one time (ha).
In case you were wondering, yes, Kelly also has an Etsy shop with all sorts of upcycled awesomeness. Check out
An Apple and a Tree on Etsy
.
Third, I've been DISCOVERED! My modeling career has been launched! (You can tell it's me by my distinctive markings :D)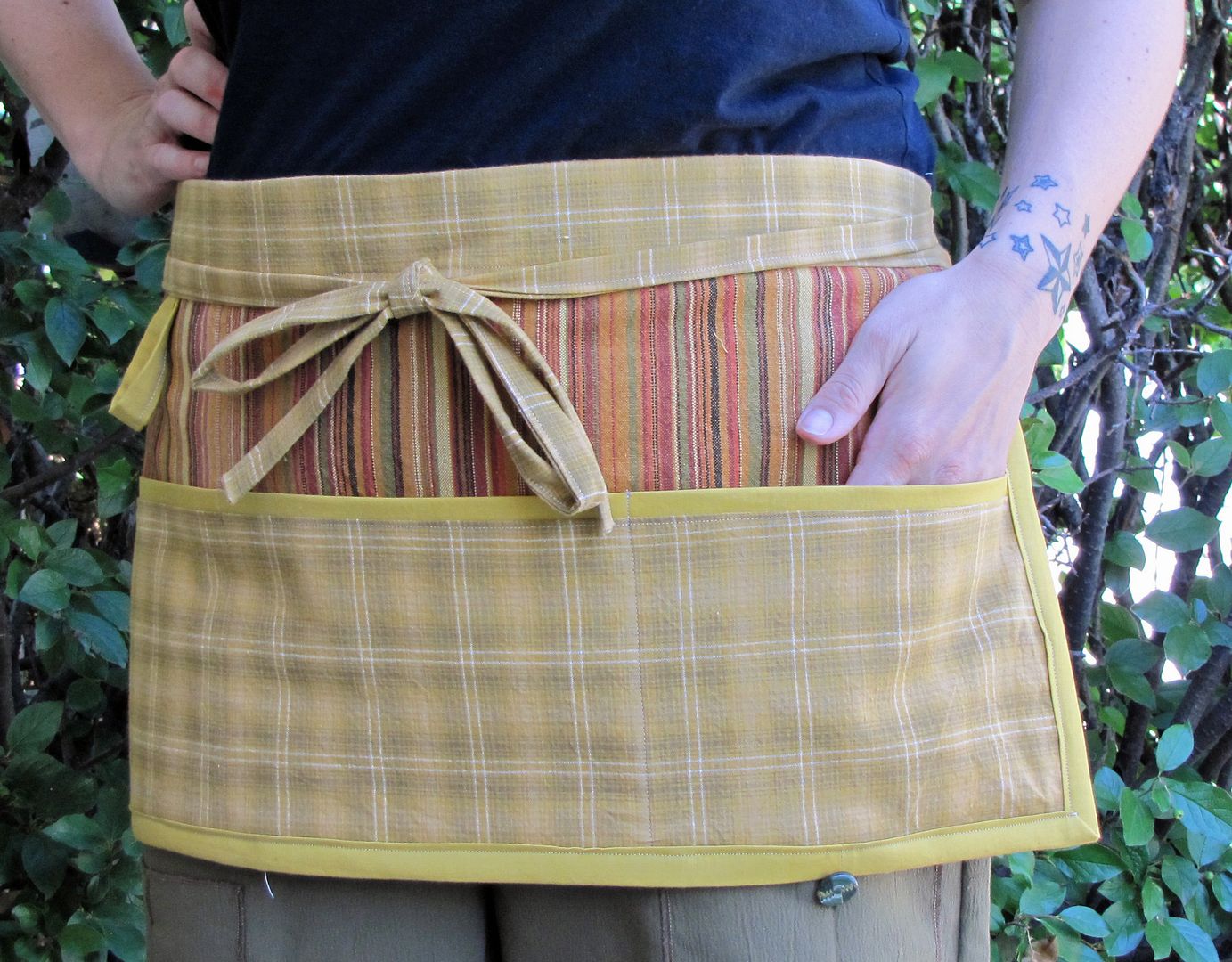 Crystal of
HeartSong Farms
made a handy little pdf pattern for a market/vendor apron, and she asked if I could try it out. I loved it, great, solid vendor's apron, and I even took a picture of myself making it. And, behold, I'm on my way to fame and fortune!
While we are all waiting here for my millions of fans to notice me, you can go check out this
excellent pattern
. Crystal also blogs over at
Solidity Of Rainbows
, if you were ever curious what a homeschooling mom of five is up to. You can also harass her gently if you would like to see a child's version of the market apron - I believe she has one on the drawing board.
Lastly, (I think), you will notice a few additions to the sidebars soon. I have decided to explore the fruitful world of sponsorship. I will be putting up some information on what is happening and how you can become a sponsor of Indietutes your own self over the next few days.
Oh, one more thing: I have a sewing tutorial coming soon too! But it's a summer dress, so I'd better get a wiggle on. (Somebody send me some more time!) Stay tuned for another great tutorial :D
Oh, oh, one last thing, promise:
Yes!