Okay, I'm not going to
leave you hanging
, wondering what the goodies were for. This week is cake week. An auntie, a son, a mother in law. All with birthdays. The universe has aligned, calling for a sugar fest, and we are not people to dodge our cosmic duty.
Auntie L, the first of the birthday people, got herself a double layered choco-quad cake (chocolate cake, chocolate frosting, chocolate chip cookie filling and chocolate chunks to top it all off). (Such a monster requires a bit of wine for endurance during the construction stage.)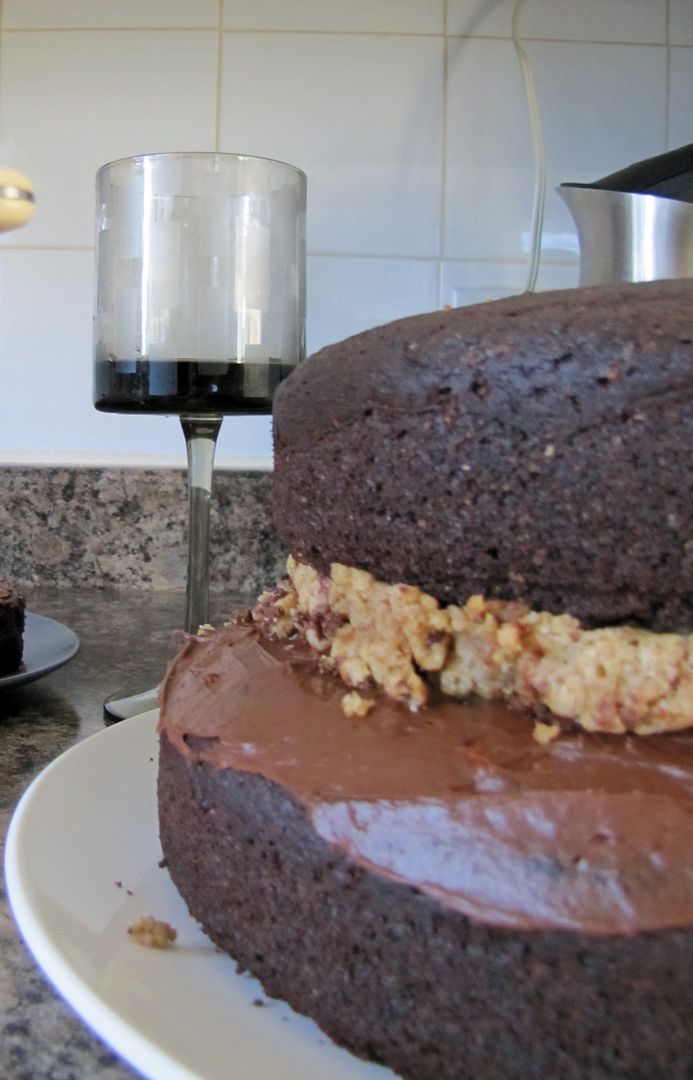 My favorite chocolate chip recipe:
cream together:
1/2 cup butter (I use vegan margarine)
1/2 cup white sugar
1/4 cup brown sugar
then add:
1/2 banana (or 1 egg worth of egg replacer)
1 tsp vanilla
mix together. then toss in:
1 cup flour (I use whole wheat)
1/2 tsp baking soda
1/2 tsp salt
Mix it all thoroughly. Then add:
1 cup worth of dark chocolate chips or chunks.
Bake at 350 until just about golden brown.
The cake itself is "Tara's Chocolate Cake" from
La Dolce Vegan
by Sarah Kramer. It's a reliable recipe, easy and good and not too sweet when the sugar is cut by 1/4. If you do not have any of
Sarah Kramer
's cook books, I highly recommend them for some basic vegan cookery.
(While I'm recommending Kramers, if you are in the Victoria area, you can drop by
Tattoo Zoo
for a vegan tattoo from her husband, Gerry. Chris, also of Tattoo Zoo, did a seriously sweet tattoo for The Man last month, so if you book with him, do it. Just so you know.)
Since it was asked, I will let you know that I mixed the whole she-bang in bowls by Mayfair and Jackson, which are stocked with my rental house. I agree,
Misty Creek
, they are lovely, and are nicely weighed for mixing. I will ask my landlady where she got them (I'm sure she will be flattered), unless some here knows?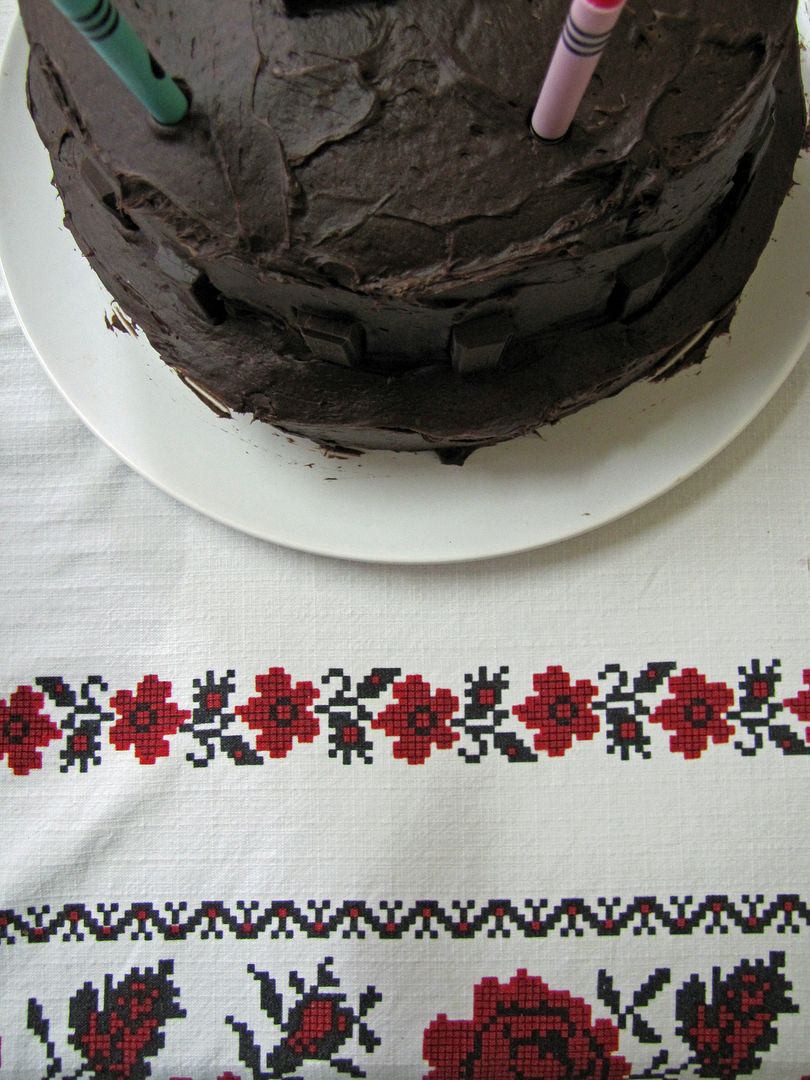 Whipped chocolate frosting was supplied by Duncan Hines. Chocolate chunk for the top is Lindt Swiss Classic dark chocolate (the grey packaging). The critique was done by Birdie, who doesn't say much by words, but usually gets his message across: