And I'm back. Well, back-ish.
Thank you to all who have sent me supportive messages.
This past week I have
nearly
entirely (not so much) avoided any blogging, sewing, or cleaning of house. I've take a few naps, got some walks in and some extra roller skating practice (very good for head clearing, particularly while falling). I did make a couple pairs of trousers (which I hope to wiggle the kids into tomorrow to take some photos) but I make trousers almost reflectively, the same way other people make dinner, so it doesn't really count. (Plus, the trousers have a really funny name, that I'm dying to share with you, so it's even more Okay.)
I would love to say my little rest was restful, but it wasn't actually. For our little family, it turned out to be a of Serious Discussion. Of Figuring Things Out. A time to Make Plans. (Can you tell I've been reading A.A. Milne lately?) A time to philosophize about how life is like a see-saw that goes up and down (true balance is boring), but every time one side dips to the ground it lands a slightly off kilter, moving the entire see-saw into ever new territory. Sort of like an unbalanced washing machine on the spin cycle.
So, some upcoming changes. I think I should put a disclaimer on my life that goes something to the effect of 'This person retains the right to change her mind at any point. Expect sudden lane changes and wide turns.' I know this blog needs something like that too :)
But, enough about me for now. There is lots of time for that later. Let's talk about You now and about what you are doing to let other people know who You are.
I had a question come up by email a couple days ago about where to buy quality and affordable clothing labels for handmade clothes. The actual need was for good information on the numerous companies offering woven label making services. I couldn't help because I am a major slacker when it comes to actually producing handmades for others and will never make enough to justify purchasing personalized labels.
(I do, however, use size labels. I found mine on Ebay, very inexpensive, and incredibly helpful for the few items I do sell to others, for my kids to know who's pants are who's [still, they get mixed up more often than is accidental, thanks to Smootch The Trouser Thief], and for anyone who inherits my children's clothes.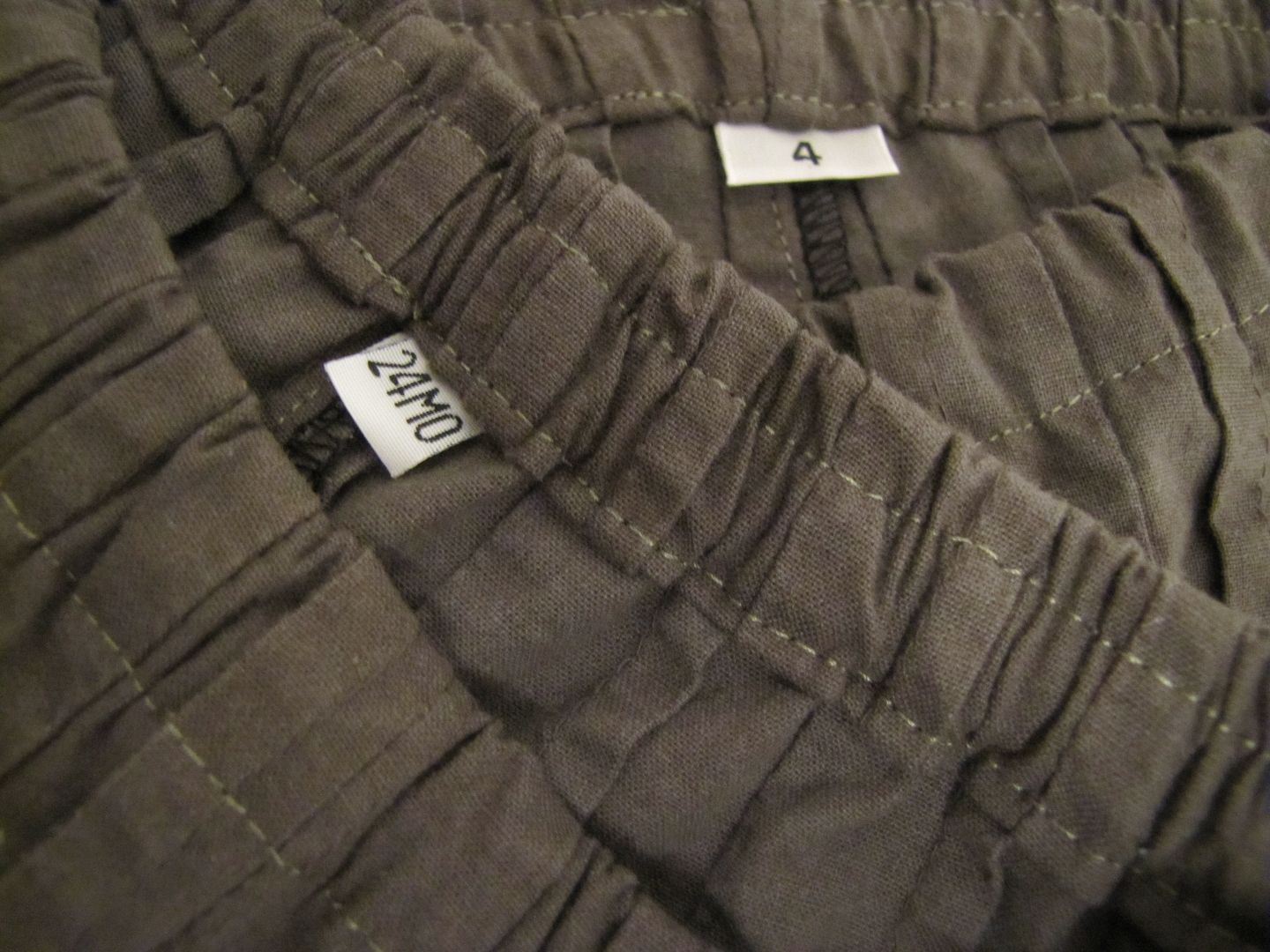 They are a bit boring, but useful to me.)
I have seen, though, some truly excellent labels in handmade garments made by more serious producers and even other dabblers such as myself. The labels certainly add a bit of polish to a handmade garment and, I think, shows pride in a job well done. I love seeing them.
So, for those of You who sew labels onto your garments, would you mind helping out fellow purveyor of the handmade? Where is a quality place to buy clothing labels? Anything to watch out for? What is your favorite type of label?
Any and all help is greatly appreciated. Thank you!