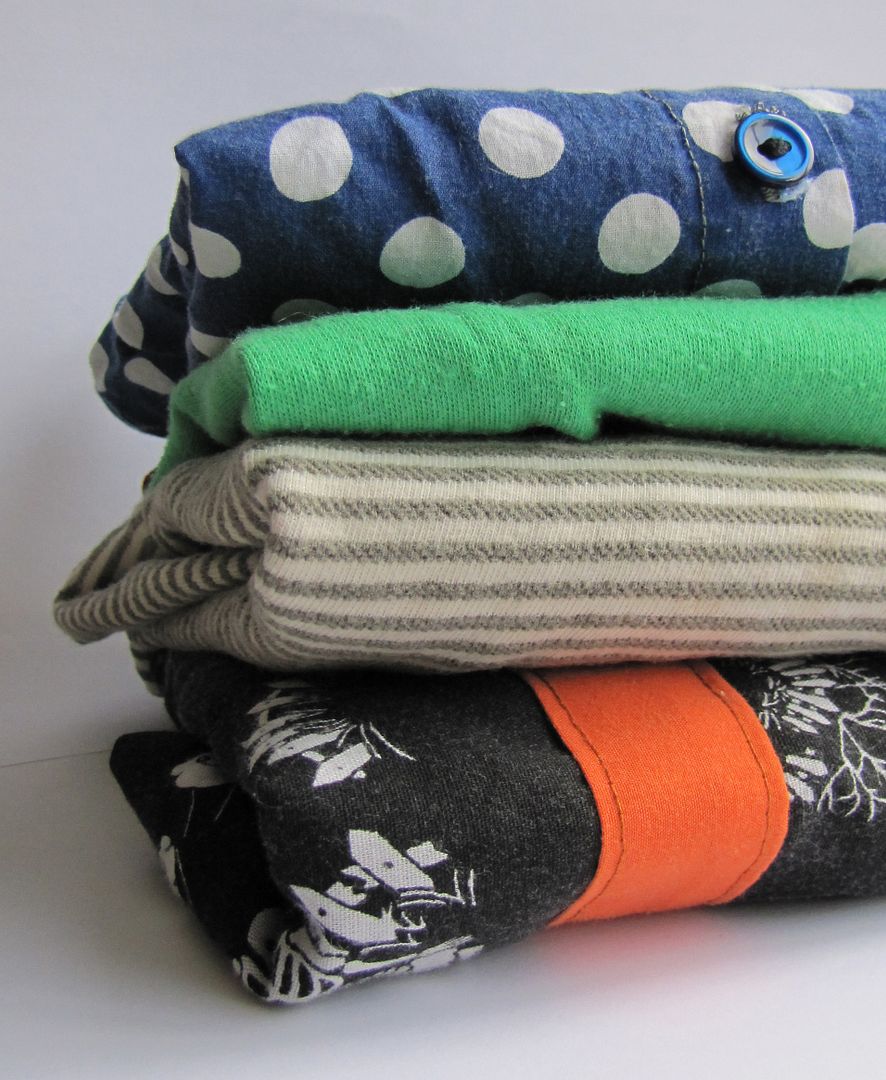 The clothing we wear is so much more than a covering for our bodies. Our wardrobe is infused with meaning; it speaks of us and, more importantly, to us. Our clothes are our wearable memory albums, reminding us of the moments of our lives and the relationships we have. A quick survey of what I am wearing right now is a topography of my associations, roles, and concerns. These pants I am wearing right now were pulled out of a friend's garage sale, a friend I now miss terribly since she moved to the other side of the world. I think of her every time I wear them. I also feel a bit of guilt as one of the pocket buttons fell off a month ago and I still haven't sewn it back on. My shirt was a promo from a crafting site. Smootch has a similar one, or had, rather, as she outgrew it long ago and is now worn by her little brother. Sometimes we both wear our matching shirts and have a laugh at our sameness. My poor, tired nursing bra is older than my son and is a direct announcement of my humility (cheapness) as well as to the sweet functionality of my body as a mother.
If we are fond of our own clothing because of their familar presence in our lives, we can become positively smitten with our children's clothes. We communicate with our children through their clothing. There is the subtle comfort in the warm pajamas, the encouragement in the rubber boots, the protection in the jacket. And there is the obvious communion. How many times have I put a particular blue sweater on first Smootch and now Birdie Boy without saying, "Your great grandmother made this for you." I say it because, of course, handmade clothes are physical manifestations of love and adoration. A handmade dress says nothing if it doesn't say, "You are loved."
Their clothes talk to us too. Their trousers and shirts and even their socks and diaper covers whisper to us about their first solids, their first steps, their dancing and singing and quiet naps. A single tee shirt can hold hundreds of memories, all the amazing and tramatic things that can happen in a single year of a child's life. How fast a small box of baby clothes can reduce a grown woman to a goopy puddle of sentiment now that the baby is gone and off to school! Or grown and has babies of his own. The outgrown clothes remind us to be mindful of who our children and we are now, and to savior this time because it will also one day be only a memory.
So what to do with the outgrown handmade clothes? I'm never sure what to do exactly when my handmades have done their tour of duty, particularly if the garment in question was made by somebody else. When is a handmade a keepsake or heirloom and when should we just get over it and send it to the thrift store?
Sometimes my handmades have gone through two or more children as hand-me-downs or passed along to friends with younger babies. I usually only pass along to friends who appreciate the connotation of handmade or clothing with stories (just because.) I have sent some to thrift stores, lacking anyone appropriate to pass along to or it's something I didn't like in the first place (it happens). I've picked up many items obviously handmade in thrift stores and appreciate them all the more for it. A couple of baby sweaters, made by loving grannies, are in storage and will be kept until my babies have their own babies. Some items I've made have been worn into rags and simply sent out to pasture. I've redesigned and reconned many of Smootch's dresses. Dresses are great because the skirt can be separated and it's wearability prolonged through another growth spurt.
I know of others who have sold their outgrown handmades on ebay, Kijiji, and such. Others have broken down the clothes into patches for blankets and pillows. I am interested in hearing your reflections on your outgown handmades - what do you do?