For those of you start-up superheros who are forced to make their own attire or those who have a basket of goodies to deliver, the basic hooded cloak.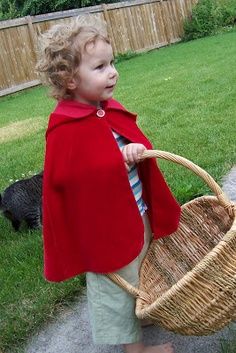 Three basic pieces: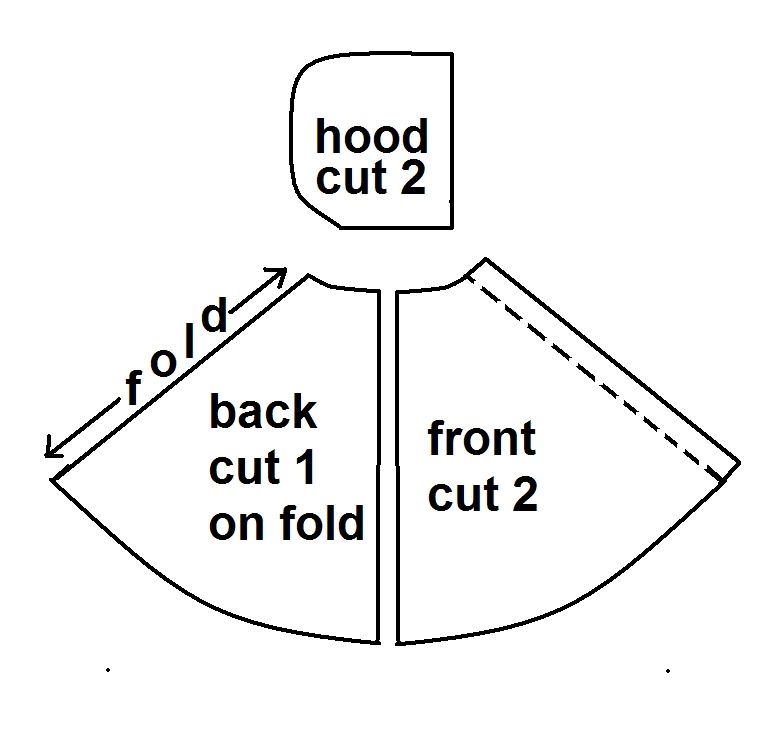 Hood piece:
Used your favorite hoodie to trace out a hood shape by folding your existing hood in half and tracing around the outside of it onto a piece of paper. Be sure to add seam allowances on all sides. If you want to line your hood, you will need to cut four pieces, two of the shell fabric, two for the lining.
Back piece:
Make this piece as long as you want, but make sure that the neckline is going to fit you. use the neck of your favorite tee shirt as a guide. The neck curve should be about half of your hood piece's neck measurement. The other half of the hood's neck measurement will be taken up with the front piece's neckline. That way when the two hood pieces are sewn together it will come all the way around to make a nice full hood. The neckline will begin at a ninety degree angle from the folded edge.
Once you determine how long you'd like your cape and drawn in the neckline on a large piece of paper (or on your folded fabric in chalk), measure out your desired length from your neckline in several places. Use the ends of those measurements to draw in the bottom curve of the cape.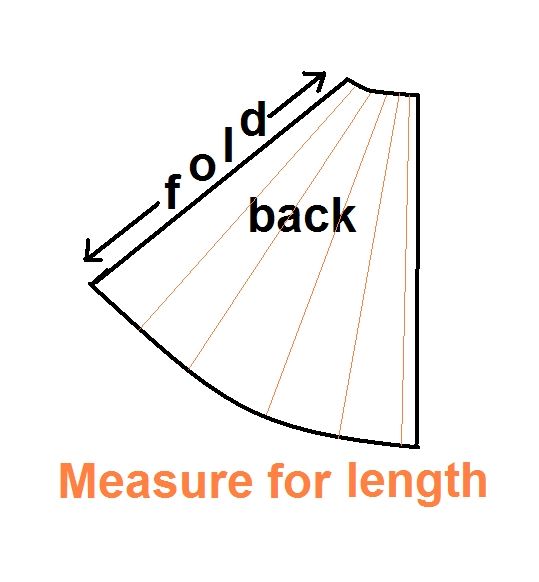 (Let's pretend that my orange 'measurements' are of equal length.)
Front piece:
To create the front pattern piece, use your back piece, eliminating the fold instruction and add about 4" or so on the side that will be your cloak's opening. This is so the opening overlaps a bit so you can close it with a button (or whatever strikes your fancy: ribbon, chains, crab claws, etc.), and will give you a bit extra to fold back into a neat hem. You will also want to shape the neckline to be slightly lower in the front (again, use that tee shirt) so that it doesn't strangle you.
Note:
If your fabric is wide enough or your cape small enough, you may be able to get away with using just one pattern piece for the front and back, eliminating the side seam. Make up both the front and back pattern pieces on paper and then tape the side seams together to overlap your seam allowance amount. Cut the cape as one piece.
Construction:
You have your pieces cut and pressed. Get ready to sew:
1. Align hood pieces right side together. Sew curvy side. Hem front of hood.
2. Align one front piece side seam with back side seam, right sides together, and sew. (I know I don't have to say this, but take note that the pieces are placed together so the side neck is aligned with the back neck and it's not all turned around. This is a long seam you don't want to have to rip out.) Repeat for other side.
3. Attach hood by putting middle seam in the middle of the back, right sides together, and pinning away from there along both sides. Sew hood in place. Take note that sewing curves can be challenging, and the fabric will want to stretch out on the bottom. Control your stitching and fabric, keeping your pins in place as you sew to prevent outrageous amounts of stretching.
4. Hem bottom of cloak.
5. Fold over the front opening into a double fold and hem, making sure an inch or two is left to overlap the other side. Repeat for other side.
6. Attach button so your cloak doesn't come off in the wind.