For myself, though, as a matronly woman of almost forty (did I mention I'm going to level up an entire decade this year?) and someone who sews professionally, the average tee reconstruction feels... young. Yes, that's the word.
Go ahead and label me a t-shirt reconstruction snob if you like.
But as old as I am, I do have a few too many t-shirts (because that's all I wear), especially roller derby shirts, and I have decided to make a big pile of them and not stop sewing until I have somehow transformed them into wearable our usable in some way. As inspiration, I was sifting through our local library's sewing section and I came across a book called Tease: 50 Inspired T-Shirt Transformations and scored this little idea from it that I though maybe I could actually pull off.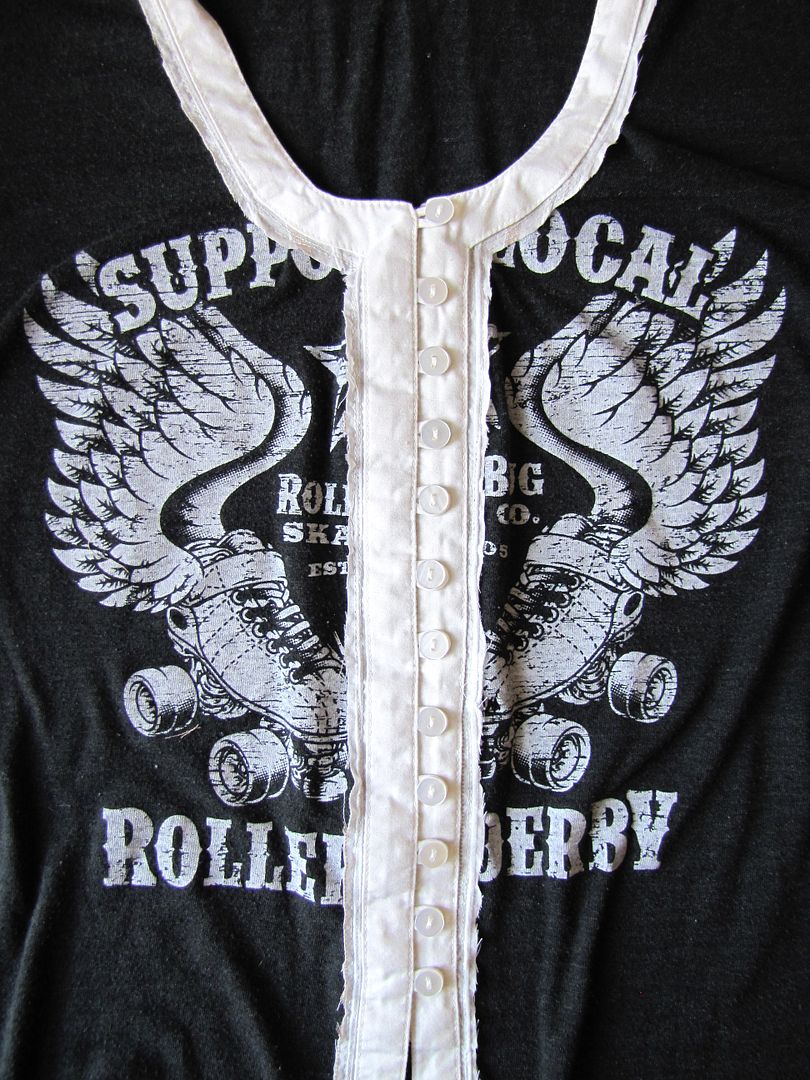 It is one one fitted t-shirt: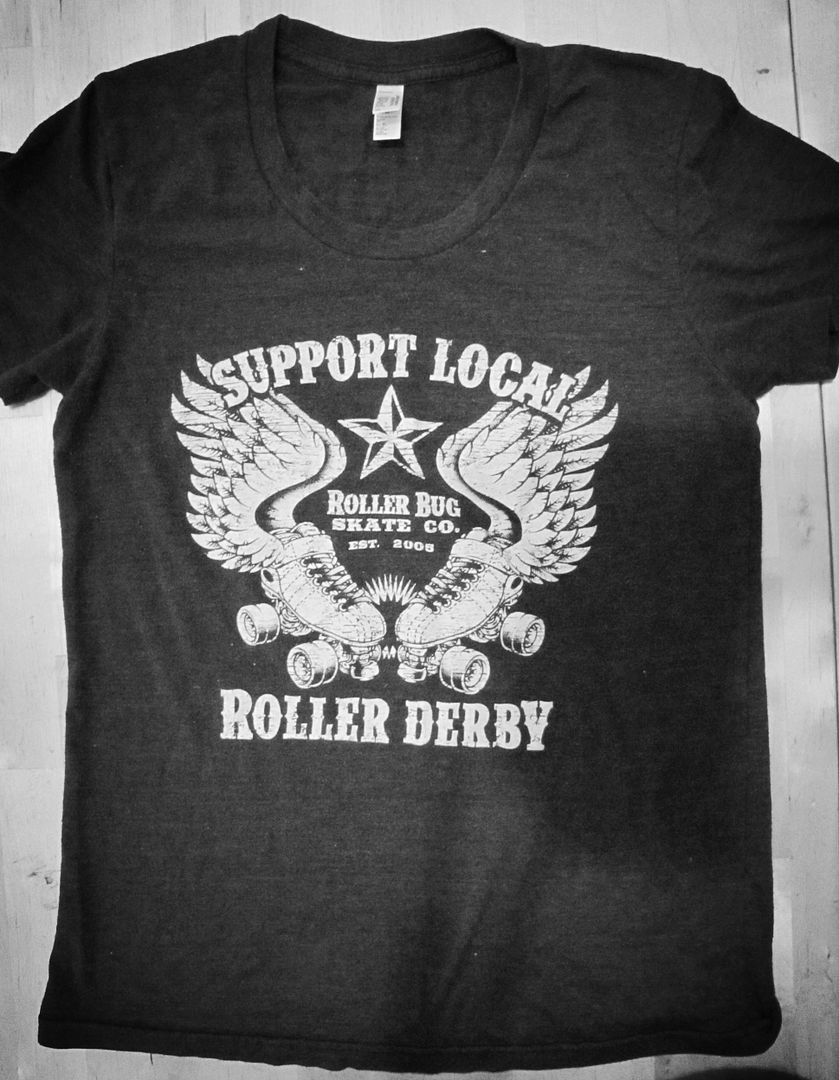 Plus one button down shirt: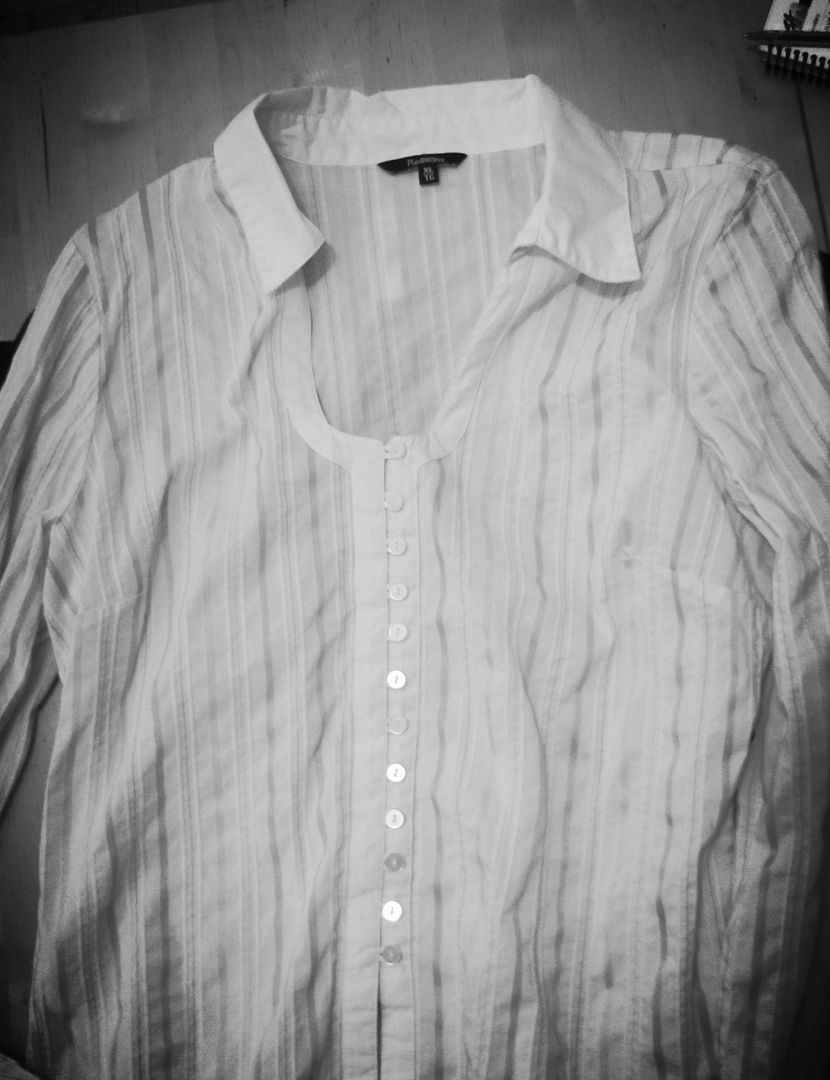 The collar and front placket were cut off carefully, leaving about an inch of material for sewing onto the t-shirt, then pinned onto the t-shirt in the appropriate place. (I saved the rest of the button down shirt for other projects - I may just add a crocheted collar cuff to it and call it a sweater shirt.)
The collar and placket were sewn directly on top of the tee - no fancy stuff here. The raw edge of the placket was cut down close to the seam and allowed to fray.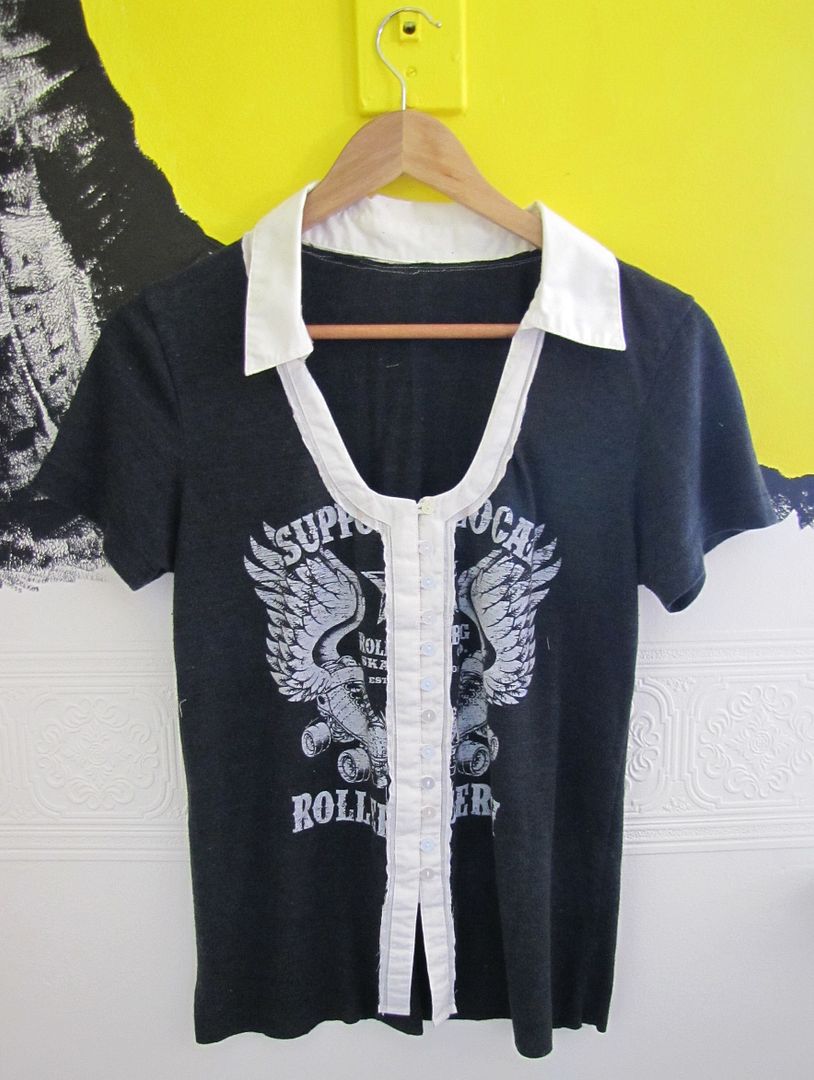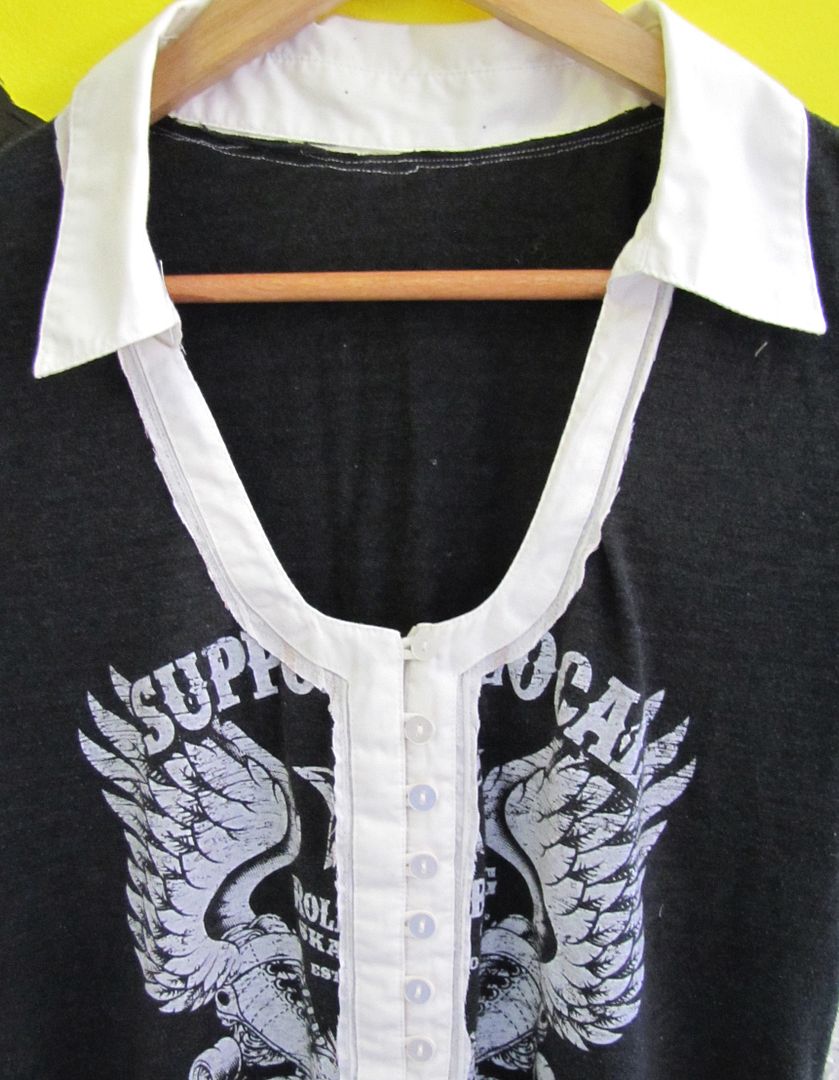 Apparently I didn't do so well with the matronly-woman look, as girl child immediately asked to have me help her make one of her own. Yet another derby t-shirt rescued from the bottom of the drawer for improvement.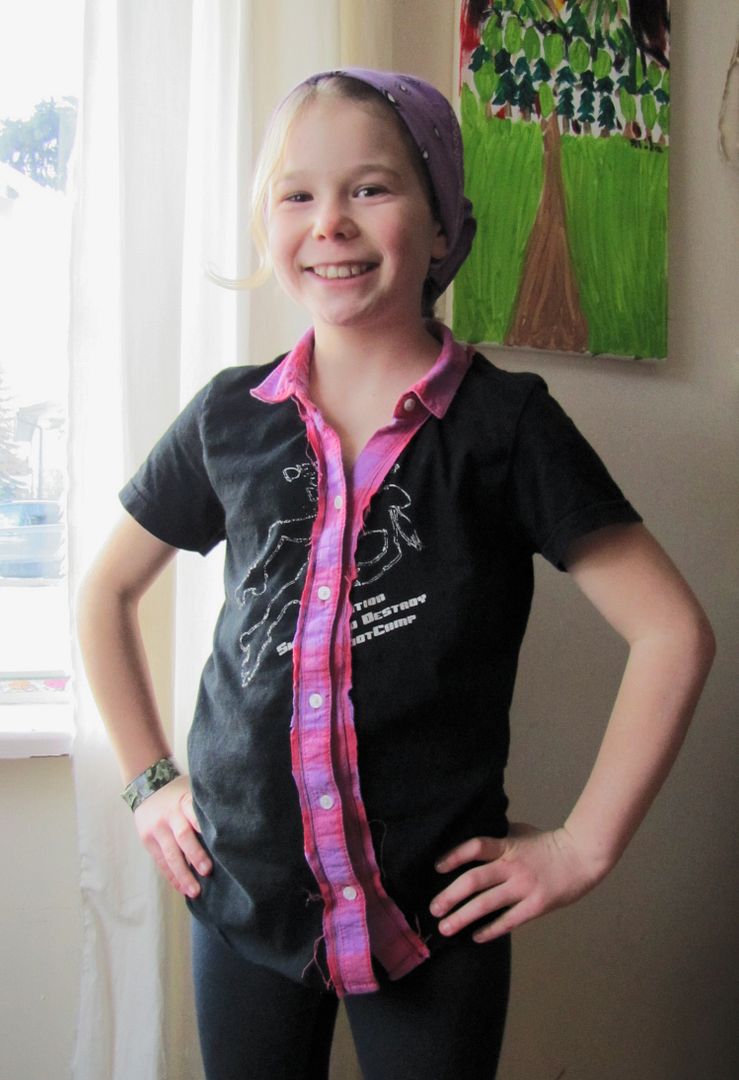 Girl child's placket took a wander off to the side.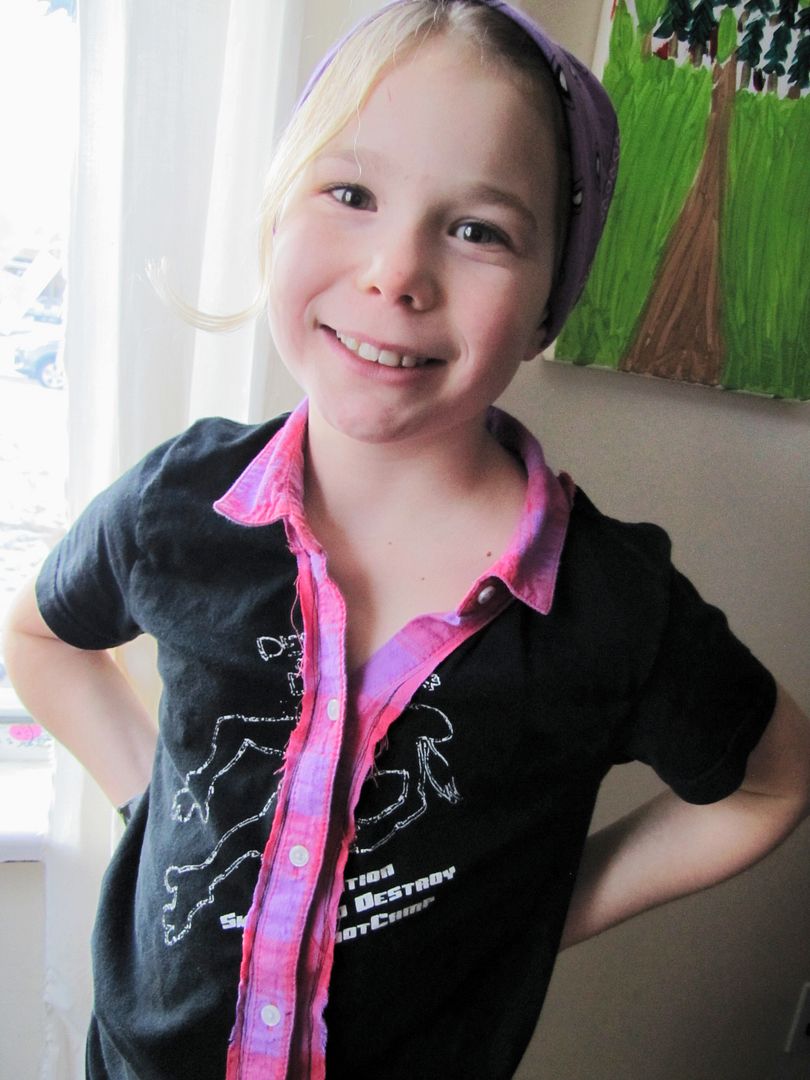 Now we're all dress up and ready for... well, I don't know. Sewing? I have another half dozen or so shirts that I plan to take down over the next few days. Wish me luck!
*********************************
ps, I just found
another t-shirt to dress project I did
... more derby, of course! I must have dozens of these little projects all around me. Just as an update, girl child and I are both still skating derby. It'll be my fifth season this coming year and girl child is hoping to be bouting by summertime.