Sabrina Grimm by Girl Child
The more I talk about the children and young adult fiction I read to myself, for myself, I learn of other adults who also read literature meant for a younger audience. One of the most intriguing discoveries of late is that I am far from alone.
As a young reader, I think I somehow skipped over all the fabulous books written for me. My family of origin are not readers. My literature exposure came from public school and an aunt who favored grisly stories by Stephen King, Dean Koonz, and, in every Sunday newspaper, Max Haines. I certainly had no problem ingesting a broad range of horror stories from my aunt but books from school were often boring or, worse, intended to teach me something. Nothing more dreary than sneaky morals to dry out a story. From about age ten onwards, I did my absolute best to read only what was intended for adults (beginning that foolhardy race to adulthood that so many young girls do). Popular adult paperbacks in particular were much more entertaining than the limited number of insipid children's stories available to me and the lessons learned were equal parts accidental and juicy.
Still, my favorite book, along with millions of other children, was Lewis Caroll's Alice in Wonderland. The combination of fantastical with a female child heroine just hinted to the wondrous possibilities that may be found in life, if one just pays attention. Even if one is a girl.
Of course, Wonderland stands as a brilliant counter point to dreary everyday life, particularly in public schools where teachers would gleefully thwack any child speaking without permission with a ruler and punishments were doled out to children who colour in more than one direction. Imagine a world where you can kick over the dictators with your foot and cause a great explosion of cards and chaos. Besides the caterpillar, that is my favorite bit.
It wasn't until I was an actual adult by age and association that I found my reading niche. Though I read many kinds of books and usually go through a couple non-fiction books a week, I become truly excited to read some darkly humoured narrative with amusingly grisly happenings. With Douglas Adams I learned that horrible things can take place, such as the end of the world, and yet it can be really quite funny at the same time. Terry Pratchett taught me how to handle the things in life bigger than myself with a bit grit and humour, and that death need not be feared because even though he has an unfortunate duty, he is a rather nice chap with a horse named Binky.
I would be tempted to think of the grim and funny to be the providence of adults who have the experience to know that shit just happens, but I think that this perspective, or really, the enjoyment of it, is rooted in childhood. I could never count all the hours that I spent scaring myself for my own gratification. The haunted houses, the nasty neighborhood witches, the scary stories and games played where one would be caught and boiled alive and eaten by cannibals. Left to their own devices, childrens games are often macabre and frightening. It is hard to tell when children play together whether they are shrieking from joy or terror. Often times, it's both.
Of course, with children, good overcomes evil in the end. But not before suffering all sorts of nasty adventures and terrible happenings. Children aren't afraid to shoot each dead and stab one another's guts out, have wars, fall in love and bare dozens of babies. Their plots are often convoluted and nearly impossible to follow yet the themes remain close to life's most elemental and universal experiences. Perhaps it is because they are frightfully near to one edge of life longevity, while the rest of us are mired somewhere in the middle, distracted - perhaps by design - by the thousands of mundane details we convince ourselves we must take care of.
From Edward Gorey's The Gashlycrumb Tinies
It's hard to underestimate the influence these writers have had on our life here. Girl Child will often vocalize her feelings using the idiosyncratic language and character of the books we have read together. For instance, she will say, "School makes me feel ennui, a phrase which here means, bores me so so so so much I think I'm going die." Through reading these books, we have developed an esoteric set of phrases, references, and meanings that we use to articulate deeper layers in ourselves that our utilitarian Canadian English leaves wanting. We connect and communicate through this literary universe to the point where it has seeped in and irreversibly shaped our characters.
Of course, it helps that Girl Child and I share a similar sense of humour and feelings of justice. Also, Girl Child is, by her nature, one who 'gets it', where you do not have to explain why something is funny or what to read between the lines. She has an intuitive grasp of hidden and implied meanings and is well trained to be suspicious of the overly bright and humourless.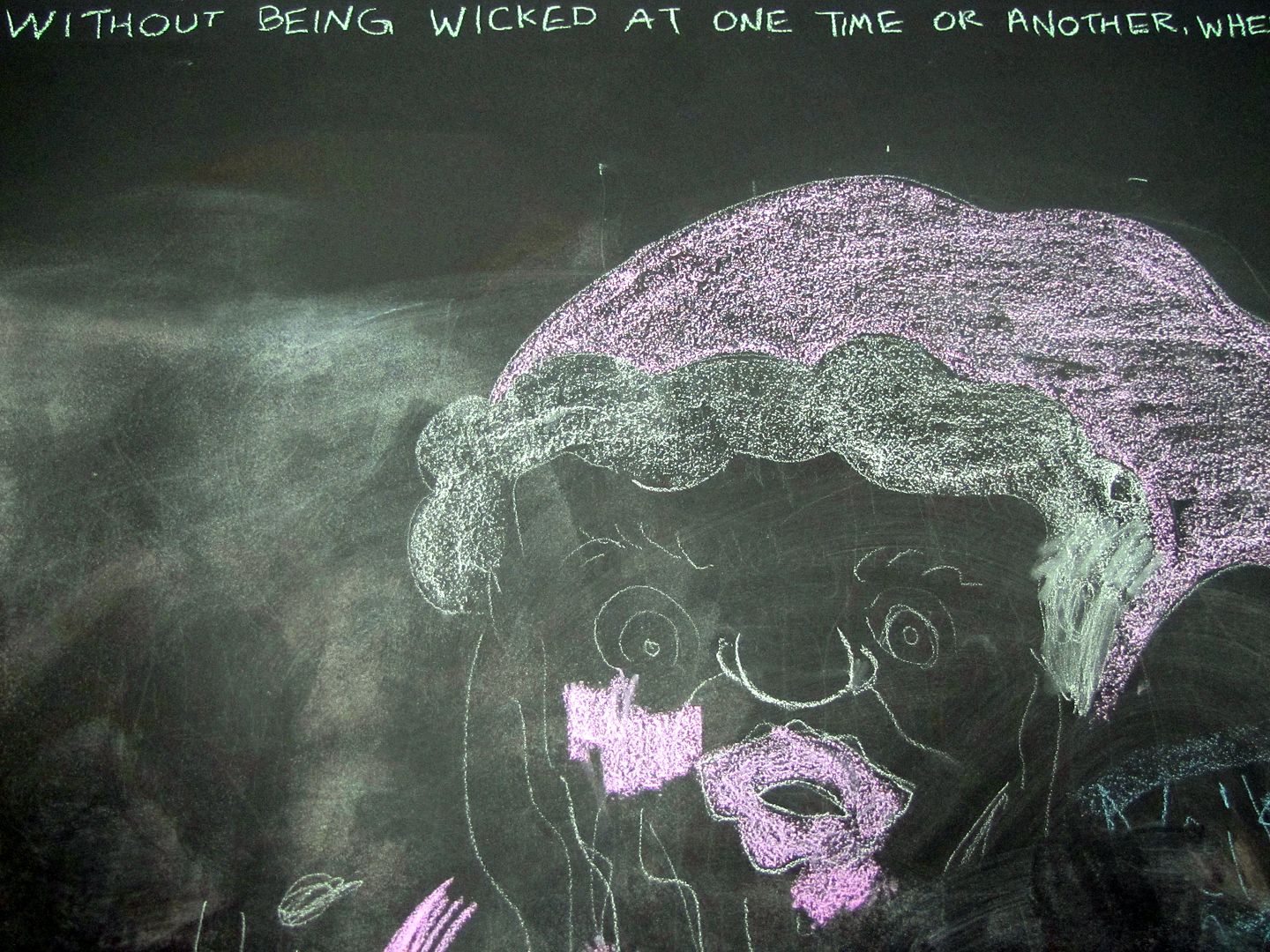 Our chalkboard wall often holds quotes from our favorite books. We are just likely to write words as draw pictures.
Talking about children's literature with other adults leads to more fabulous authors. Not a day goes by now that I do not get a notice for an interlibrary loan at my public library, a service where I can request books from any pubic library in Canada. So many great books, I could never find them all on my own, using only what's readily available. Some I read to Girl Child, some I keep just for myself.
Are there readers here who like to read children's literature? Please share with me some of your great finds.